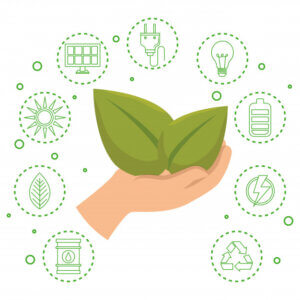 According to a report by the World Bank Group, we generate 2.01 billion tonnes of solid municipal waste every year, with nearly 33% of this waste not being disposed of in an environmentally safe way. So what can we do as homeowners to help out the planet? Let's consider altering our norm by choosing eco-friendly building products that are actually made from waste. Let's take a look!
Cork Flooring & Ceiling Panels
Have you seen a natural cork floor? The rich colors and patterns are gorgeous, plus cork flooring is durable especially with pets and spills by kids. This functional choice is low maintenance and keeps your floors warm during the cooler months. Many homeowners choose to install acoustical cork ceiling panels for their noise reduction qualities. And yes, you can even purchase cork floors and panels made from recycled wine corks so now you don't have to feel guilty about having another bottle!
Natural Bark Siding
Repurposed tree bark siding is a sustainable choice to protect your home as it's naturally durable just as tree bark would protect the inner tree from insects and the elements. The cool thing here? Manufacturers have incorporated the natural texture of the bark onto the eco-conscious siding so you can both see and feel what nature intended. Bark siding can be used indoors on a feature accent wall or anywhere you'd like to bring a little nature inside your home. And speaking of protection, DomiDocs HomeLock® safeguards your home from fraud with the most advanced home title tracking and digital property monitoring available today!
Glass Tiles & Countertops
Recycled glass from the solar and window industry can be turned into beautiful tiles you can use throughout your home. Many companies involved in this process also ensure the glass tiles are created without the use of volatile organic compounds which is a huge win-win for everyone. Color palettes of recycled glass tiles range from muted ivories to deep sea-inspired teals, and just about everything in between. Countertops made from recycled glass feature bold and neutral colors while being non-toxic and naturally durable.
Newspaper Wood
While many of us religiously recycle our daily newspapers, a Dutch company is compressing layers of newspaper and glue to create a wood-like textured product. This traditional reversed-wood production produces material that can be used in your home for cabinets or furnishings.
Building Blocks
Manufactured through a zero-waste process with no added chemical or fillers, plastic building blocks don't require any adhesives so they're perfect for use in landscaping, retaining walls, or even as privacy fencing. Think big colorful Lego blocks made from recycled plastic which can then be used to build a variety of modular-style building projects.
Fire Resistant Boards
When looking for a timber replacement in your home, consider using Fireboard that's 100% asbestos, toluene, and formaldehyde-free. Are there really products that contain these? That's a scary prospect. As an added bonus, Fireboard won't warp from humidity and can be used in projects like partitions, walls, and underlay.
ProAsh
Yes, ProAsh. Made from a combination of cement and ash by-product produced from coal combustion known as fly ash, ProAsh is a more durable concrete alternative that can earn LEED credits for your energy-efficient green home. Reduced CO2 emissions and cost-effectiveness make this environmentally-friendly product worth considering anywhere around your home that requires concrete, including stabilization and/or reclamation.
Porous Pavement
According to the manufacturer FilterPave, their pavement made from recycled stone aggregate and glass bottles is almost twice as porous as traditional pavement products. And since it's sustainable, porous pavement is also eligible to earn your home LEED credits.
Recycled Roofing Made from Diapers
While we know this doesn't sound ideal, a UK company with a Canadian origin is doing just that – taking used diapers and personal hygiene products and turning them into roof tiles among other materials. All components are shredded and sanitized before being turned into plastic components such as roofing tiles and even cat litter for your furry friend.
Recycled Steel
Steel manufactured across North America requires at least 28% of its content to be recycled. But a few companies such as EcoSteel are looking at making that recycled percentage much higher. Plus recycled steel doesn't use toxic chemicals during the manufacturing process and it's resistant to natural pests. Energy-efficient recycled steel can be used in your home for structural elements such as roofing or framing.
Did you know our DomiDocs digital homeowner management platform provides the value of your home in real-time? Besides the convenience of knowing your home's worth at any given moment, DomiDocs also offers secure storage for documents, a maintenance calendar with reminders, and HomeLock® – the only proactive property protection service on the market today – don't be a victim of title fraud, simply enter your property address to search databases right now! 
Author – Connie Motz