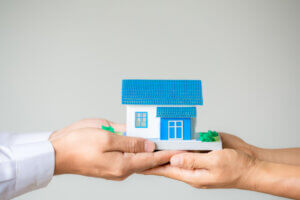 When it comes to protecting your home, easily your most valuable asset, it's important to mitigate the risks involved. According to the FBI, your home is already identified for title and mortgage fraud! DomiDocs HomeLock® protects your home with the most advanced home title tracking and digital property monitoring available today. But besides fraud, costly homeowner repairs may be protected by your homeowner's insurance policy or a home warranty. Let's take a look at the differences between them!
Homeowners Insurance Policy
Also known simply as home insurance, a homeowners insurance policy provides financial protection in the event a home's structure or its contents are damaged/stolen in an emergency scenario. A homeowner insurance policy can cost anywhere from $300-$1,000 annually and there's a deductible amount that's required when making a claim.
What's Covered By Homeowners Insurance?
Homeowners insurance covers damage to your home from fires, hail, theft, wind, and other unforeseen disasters. It doesn't cover appliances and/or the working systems in your home such as heating, ventilation, and air conditioning (HVAC). Homeowner's insurance also protects if the insured or their family are held liable for injuries to other people or damages to their possessions while they're on the property.
Home Warranty
If you recently bought a home, you may have been offered the chance to purchase a home warranty which is essentially a service contract to protect your home's internal systems, it's not an insurance policy. A home warranty yearly premium can range in cost from $300-$600.
What's Covered By a Home Warranty?
The company offering the home warranty promises to repair or replace specific components of your home if the need arises, which can include appliances, electrical, plumbing, water heaters, and HVAC operations. There may be a need for a home inspection prior to purchasing a warranty and it's important to establish if the policy will cover any pre-existing conditions within your home, as well as to what the flat-rate service call fee will be, if applicable.
So What's the Difference Between Home Insurance & Home Warranty?
Home insurance is a policy while a home warranty is a contract. They both operate in similar ways as they have annual premiums and deductibles or service fees. A home insurance policy will cover structural losses and damages including personal property due to emergencies. A home warranty covers repairing and replacing the systems within your home including appliances. If you have a mortgage on your home, your lender will require you to have home insurance, while a home warranty contract is completely optional.
Do You Need Both Home Insurance & a Home Warranty?
The simple answer is yes. As a responsible homeowner who wants to protect their investment as well as their family, the best way to mitigate loss is to have both a homeowner insurance policy and a home warranty in place to help cover anything and everything that could potentially go wrong. Together they'll help provide coverage for nearly every part of your home.
And now that you've got your home covered by insurance and a warranty, you need to consider a third scenario – the possibility of losing your home due to mortgage or title fraud. The FBI states they're among the fastest-growing white-collar crimes in America today and chances are you won't know someone has changed the name on your home's deed or title or listed your house for sale or rent until it's too late. DomiDocs HomeLock® proactively scours third-party listing sites and checks official records to alert you before the image is done. Your home equity is at risk, so be sure to sign up for HomeLock® protection today!.
Author – Connie Motz