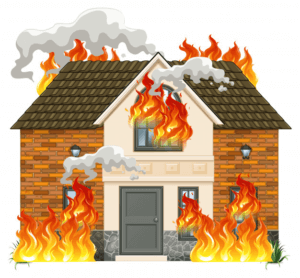 During the busy holiday season, we're all looking for a little peace of mind. If you own a home, you've no doubt protected your investment with a homeowner's insurance policy. But during this season, it's easy to get distracted and miss some of the little things we should be paying attention to, especially when it comes to holiday decorating. But the good news is, there are simple ways to help ensure you and your family are out of harm's way while enjoying holiday festivities! Let's take a look at how to keep your family safe during the holidays.
Candles
If you're going to burn one of those yummy fragrant holiday candles to spice up the holiday season, they need to be monitored at all times meaning there should always be someone in a room where a candle is lit. Candles should be placed safely out of reach where a pet or a child can't accidentally knock them over, and they need to be kept well away from flammable items such as bedding, clothing, curtains, and other holiday decorations. Candles with multiple wicks produce high heat as well as larger pools of hot wax which can result in burns. Exterior decorations on candles may also be highly flammable. And some wicks in inexpensive candles may contain cores made of toxic lead, eek!
Christmas Trees
Statistics show almost 95 million American households display a Christmas tree annually and according to the National Fire Protection Association (NFPA), during a 4-year period from 2013-2017, American fire departments responded to 160 Christmas tree fires annually, resulting in $10 million in property damage. The NFPA found "electrical distribution or lighting equipment was involved in 44% of home Christmas tree fires," while 25% of the fires had external heat sources placed too near the tree, such as candles and heaters, or were set too close to fireplaces. Firefighting professionals know it takes between one to two minutes for a Christmas tree to explode into a devastating fire where an entire room is engulfed in flame.
If you're going with an artificial tree, ensure it's labeled as being fire-resistant. If you're buying a fresh-cut tree, make sure there's always water in the base of the stand to keep the tree hydrated. As soon as the holidays are over, the dry tree should be immediately removed from your home and never placed against your home or in the garage, as that's another fire hazard.
Cooking During the Holidays
According to the NFPA, most home cooking fires occur on Thanksgiving, Christmas Day, and Christmas Eve respectively. If you're cooking on the stove, stay in the kitchen, and if you're cooking a delicious turkey or ham for your family, make sure you are home while it's in the oven. Keep hazards out of the kitchen including pets, kids, and toys, etc. that can easily end up on the floor and create a tripping hazard. And before you start producing any of your delicious holiday cooking and baking, test your kitchen smoke alarms to ensure they're working properly.
Festive Holiday Decor
During that same 4-year span mentioned above, bad holiday decorating habits caused approximately 780 home fires resulting in nearly $12 million in property damage. Many fires started with decorations being placed too close to a heat source including candles, wrapped presents, and traditional Christmas stockings hung seemingly innocently on fireplace mantles. Kitchens were the source of 21% of holiday decoration fires, followed by family and living rooms. Ensure your lights are approved by a testing lab like the common Underwriters Laboratories (UL) and avoid the use of extension cords to plug lights in if possible. If lights are damaged, it's time for a new set. Tree decorations to avoid hanging include highly flammable pinecones and plastics. And remember to always unplug your Christmas tree lights at night before heading to bed.
Fireworks
Many families choose to celebrate the holiday season by enjoying a colorful fireworks display. While it's fun for the whole family to enjoy, it's important to note that 10% of fires from fireworks happen from December 30 to January 3, with the most fires occurring on New Year's Day. Firework safety tips include:
Only adults should handle fireworks
Ensure your firework choices are safe and legal (not homemade)
Reading and follow all warning and safety labels
Light only one firework at a time
Designate only one user
Wear protective gloves, eyeglasses, and earplugs
Keep a precautionary water source close at hand
Having a great insurance policy in place is the key to being a responsible homeowner, but we all know the reason we have insurance is for the unexpected occurrences that life sometimes throws at us. DomiDocs is here to provide you with additional peace of mind in knowing your important homeowner documents, including your vital insurance policies, are stored safely and securely through our digital platform.
Author – Connie Motz