All your home's data and documents in one place
Serving homeowners through our professional partnerships. We look forward to directly serving all homeowners in 2021.
Save time, money, and increase the
market value of your home
We start by collecting all your home's data and documents in one secure place. Next, we layer on machine learning and AI to help you make informed and actionable decisions.
By having all your property information organized and available anytime or anywhere, you will be able to manage your properties more efficiently.
Reduce insurance costs and risks
By using our platform and insurance industry standards, we provide the digital tools to document, process, and optimize insurance coverage and claims.
Increase your home's market value
Create your property's digital profile to increase the value through organization, transparency, and technology.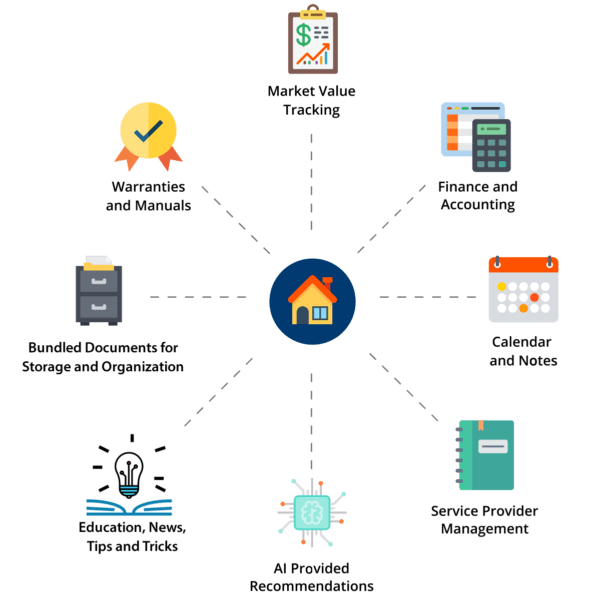 Functionality

to manage your home
Simplify home management with our free, highly secure, and easy to use cloud-based storage platform to store, track, and maintain your digital property.

QUICK FACTS
75% of Americans feel anxiety when having unexpected repair costs.
52% of Americans feel anxiety about maintaining their property.
Total
privacy

and

security
We ensure continuous protection on our highly secure and trustworthy platform. Your data is kept completely private in your digital vault, and we have a multitude of safety measures to keep your information protected and accessible only to you.

QUICK FACTS
40% of homeowners cannot find a property document when needed.
Maximize the
value

and

marketability

of your home
We provide ongoing AI generated recommendations based on your personalized data to help you build the value of your home. You can gain access to our technology and organization that will enable you to make informed homeowner decisions.

QUICK FACTS
We help solve some of the main reasons pending home sales fall through:
1. Major issues surface during a home inspection
2. Your home gets appraised lower than the sales price
3. Unforeseen property liens or title issues
Track and manage home
finances
We make it easy to track all the financial details of your mortgage, property taxes, insurance, utilities, maintenance, home improvements, and any other property expenses. See where your money is spent over time and track projects and improvements for a more up to date and accurate home valuation.

QUICK FACTS
60% of U.S. properties are overassessed, many property owners are paying more in taxes than they should have to.
$8.2 million U.S. mortgages are refinance eligible, and buyers would save money even with application and funding cost included.
DomiDocs partners with some of the largest property tech companies in the country to provide a better experience through technology and connectivity. These include national builders, title, mortgage, and insurance companies.