A Homebuilder to Homeowner Enablement Platform
Increase each property's ROI and continually earn referrals by offering
your buyers the latest in new homeowner technology.

QUICK FACTS
60% of new construction buyers are willing to pay more for smart features
95% of all home buyers compare home builders and read reviews online
Technology that increases
builder ROI
The only platform that strengthens the builder and buyer relationship post-sale
An online system of record for property documents
Build the property's digital profile that can be transferred from builder to homeowner 

QUICK FACTS
Unnecessary and unforeseen change orders account for 8-14% of capital
construction costs
82% of homeowners feel they need more collaboration with their contractors during construction

QUICK FACTS
41% of home inquiries are for a new construction home direct from the builder
99% of new homebuyers would prefer a digital platform to manage their new home
Offer new homeowners a technology-driven experience
Stand out from competing builders with innovative, homeowner-focused technology
Instantly establish credibility for future referrals
Effectively stay in front of homeowners for
years to come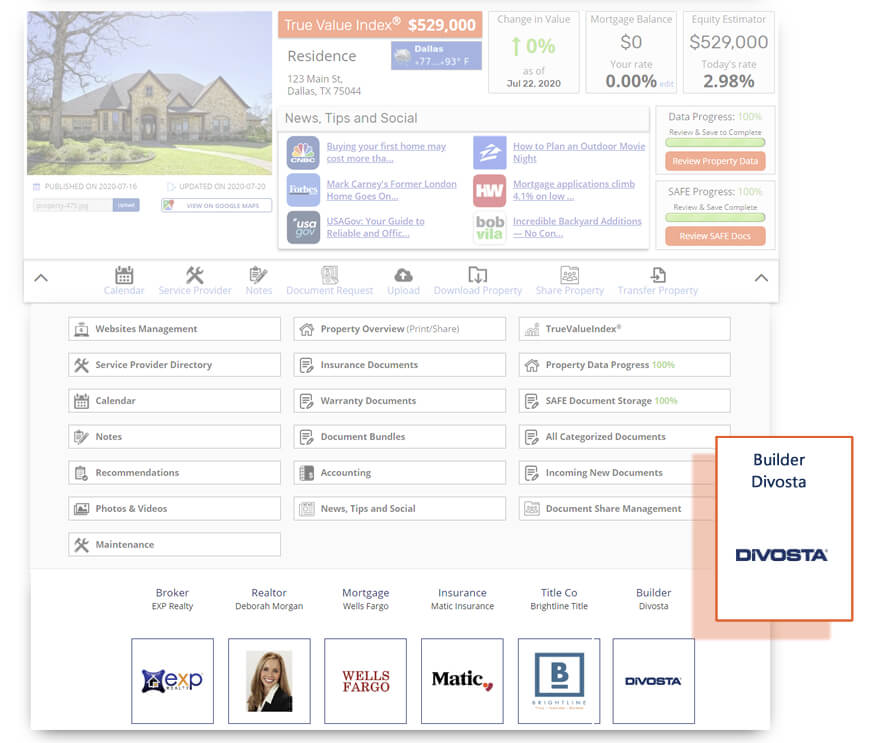 QUICK FACTS
New homeowner claims with builders were $783 million in 2019, a 9.1% increase over the prior year
41% of the homeowner's decision to refer a builder to a friend is based on their satisfaction with the "customer care" experience during the first year
We have partnered with some of the largest property technology companies in the country to provide a better experience through technology and connectivity. These include national builders, title, mortgage, and insurance companies.