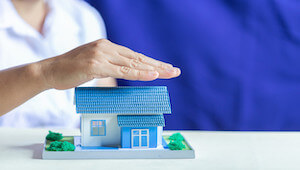 Being a homeowner doesn't come without risk. But having a solid insurance policy can help to minimize risk and protect your home's overall investment.
According to the Insurance Services Office (ISO) of Verisk Analytics, the most common homeowner insurance claims are a direct result of fire, lightning, bodily injury, wind, hail, and freezing/water damage. Nearly 6% of insured homes filed a homeowner claim in 2018, and 98% of those claims were a result of property damage, including acts of theft.
1 in 4 Americans are estimated to have lost or misplaced property documents and 40% of Americans cannot find a property document when needed.
Do you know where your homeowner insurance documents are?
Make sure you plan ahead. DomiDocs provides a user-friendly platform where you can securely store your important household documents digitally. There's a convenient insurance bundle where you can upload your important papers such as your homeowner, liability, and flood insurance policies. If you need to file an insurance claim, your paperwork is available online 24/7 with one click.
How to file an insurance claim:
If a crime is involved, you'll need to report the incident to the police and obtain a police report number. You'll need to provide your insurer with a copy of the report to verify the specifics of the crime.
Contact your insurance company immediately to initiate a claim. You'll need to fill out claim documents but also be prepared to ask questions such as:
am I covered for this type of incident?
do I need to pay a deductible to proceed with a claim? If so, is the loss higher than the deductible or lower? If it's lower, you may want to consider paying out of pocket instead of claiming through your insurance.
what's the time frame for processing the claim? Don't delay in filing a claim as it will only impede any possible settlement.
if structural damage is involved, do I need to obtain repair estimates?
is there a time limit for filing a claim?
Dealing with an insurance adjuster
Depending on the severity of the unforeseen event, your insurer may send an insurance adjuster to your home to assess the damage. Their role is to ask questions and inspect your property to determine how much money your insurance company should pay for the devastation or loss. Be prepared to:
present a list of damaged/destroyed items to the adjuster; if you've already uploaded a home inventory list and searchable photos/videos to the DomiDocs insurance bundle, this process can go much quicker and will help to ensure you'll be reimbursed in full through the claim process.
show the adjuster any structural damage that's occurred.
retain all damaged items and keep receipts for any repairs done until the adjuster has viewed them in person, as well as receipts for temporary accommodations and living expenses if you need to vacate your home.
If temporary repairs are required before the adjuster's visit, such as covering openings, video/photograph the area first and then take basic steps to minimize any further damage. If your homeowner claim involves personal liability or injury, you'll need to provide contact information for everyone involved including lawyers, doctors, and witnesses.
Settling the claim
As with any home project or renovation, you'll need to get comparison estimates from licensed contractors to conduct the repairs or rebuilding of your home. It's important to know the estimated cost of repair in the event your insurer encourages an unrealistically low settlement offer. When your claim is approved, you'll receive the agreed-upon settlement amount.
Was your claim denied?
Several factors can affect the claims process so be sure to ask your insurance professional for advice if your claim is denied. It may simply be a case of needing to provide more information such as photos, documentation, or appraisals. There may also be an appeal process available for you to pursue.
Ensure you've got enough homeowner insurance coverage
Annually assessing your homeowner's insurance policy ensures you'll have the coverage you need. Have you recently renovated your home, got a dog, or acquired expensive items such as artwork or jewelry? Chances are you'll need additional homeowner insurance coverage. Changes to your home such as roof repairs or installing a centrally monitored fire detection system could result in lower insurance premium costs.
---
Want to be organized and less stressed? DomiDocs provides a user-friendly digital platform where your important homeowner documents will be safely stored and accessible 24/7. If you need to file an insurance claim, you can simply tag your documents and share or email them to your insurance provider.
Author: Connie Motz