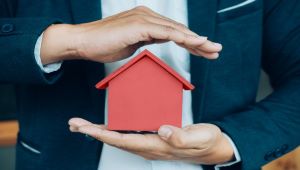 As a homeowner, it's great to know that someone has your back including your insurance agent. But is your insurance agent a good fit for your specific needs, and are you getting the best rates? Let's take a look at ways to ensure you're attaining the most bang for your homeowner insurance policy bucks.
Does Your Insurance Agent Care?
Besides being personable when you're in their office or talking with them on the phone, does your insurance agent have your best interests at heart, or are they there just to sell you a policy? A good insurance agent will first listen and then recommend the best policy to fit your needs regardless of the commission rate they can earn. Putting clients first and earning their trust needs to be the priority over an insurance agent's self-gain.
Does Your Insurance Agent Provide Good Customer Service?
If you need to call your insurance agent, are they quick to respond or does it seem to take forever to hear back from them? While they're no doubt juggling many homeowners at a time, it's vital they respond to you promptly which in turn makes you a happy client. According to Investopedia, "one of the major complaints of those who buy insurance policies is that there is no one around to answer their questions after they have purchased the policy." It's important to feel respected and valued as a homeowner while ensuring there's a level of trust between you and the insurance agent.
Insurance Company Agent or an Independent Insurance Agent?
If you're dealing with a dedicated or captive agent who works for an insurance company, they may be more interested in making sales than meeting your needs as a homeowner. They may receive a salary plus commission of the premiums sold, anywhere from 2 to 8%, or commission only, so they may try to steer you towards higher-priced or additional insurance products you may not need so they can increase their earnings and/or meet their company given quotas. A dedicated agent may also be limited in the insurance underwriters they're able to quote you from as dictated by their company. And since their choices are limited, they may try to make you consider unnecessary coverage you may not need to fit into what they're able to offer you to make the sale. 
On the other hand, an independent insurance agent who doesn't work for a specific company will provide you with more choices and multiple quotes as they have the discretion to find you the best rates and/or discounts available through a seemingly endless variety of brokers. They'll be looking for the most affordable solution and best coverage to save you money. If you choose a local independent agent, it's also likely they'll be around longer so you can form a face-to-face bond and become comfortable with them over company employees who may come and go. This also means they'll have first-hand knowledge about the area and community you live in, whereas a captive agent could be located cross country.
Check Out Reviews
JD Power regularly ranks homeowner insurance brokers so you can see where the company you're considering may stand. Their US Home Insurance Study measures the billing process, claims, interaction, pricing, and homeowner insurance policy information, with Country Financial, Amica Mutual, and Auto-Owners Insurance coming in as the top three for customer satisfaction. You can also check out personal insurance agent reviews through sites 
It's Okay to Shop Around for An Insurance Agent
While you're out there shopping for the best homeowner insurance rates to fit your needs, you can also be shopping around for the best insurance agent. Investopedia states the best qualities in an insurance agent include them being:
Knowledgeable in their field

Emotionally smart enough to be tactful while discerning your needs

Eager and high energy

Honest in what policies they're offering you and why

Offering a range of cost-effective products/services that can reasonably meet your requirements
Ask Questions!
While house insurance is an indispensable level of protection for homeowners, it's important you ask questions throughout the insurance buying process including:
What does the policy cover?

What doesn't the policy cover?

Are there any discounts available if you bundle your insurance?

Can my insurance claim be denied and why?

Is there additional coverage available?

How much insurance do you need?

What's the deductible if there's a claim?
If your prospective insurance agent has to spend time researching any and every question you ask, you may want to consider another agent as after all, your personal time is just as valuable as theirs and you need to establish a great rapport.
Do You Know Where Your Homeowner Insurance Documents Are?
It's estimated that 1 in 4 Americans have lost or misplaced property documents, and 40% can't find an important household document when needed. Don't stress out as you can securely store all your vital homeowner documents including insurance policies, receipts, and warranties with DomiDoc's easy-to-use digital platform where your paperwork is accessible 24/7 so you'll never wonder where your important documents are again. 
Besides protecting the investment in your home with insurance policies, you should also secure your home from potential fraudulent activity by signing up for DomiDocs HomeLock™, the most advanced digital property monitoring available on today's market. HomeLock™ also provides protection for other unfortunate homeowner scenarios such as missing a payment, having an unpaid bill, or being alerted to a clerical error at the county level. Be sure to read 7 Super Easy Ways to Save on Homeowners Insurance!
Author – Connie Motz