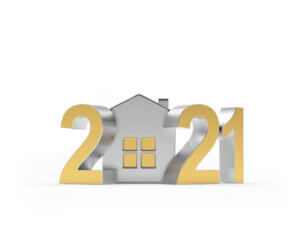 Where did 2020 go? It's hard to believe we're already at the year's end. America's current economic situation has been eliciting record-low mortgage rates and high housing demands, but what's coming up for the new year? Here's a round-up of the 2021 Housing Market forecast from leading experts across the country.
Interest Rates Will Remain Low in 2021
In a November 2020 vote, the Federal Reserve decided to anchor borrowing rates within a range of 0-0.25% to help the U.S. economy recover from the pandemic meaning home buyers can lock-in low mortgage payments for years to come.
Lawrence Yun, chief economist for the National Association of Realtors (NAR) says, "We are witnessing a true V-shaped sales recovery, as homebuyers continue their strong return to the housing market." He predicts 5.86 million home sales and an average 3.2% mortgage interest rate in 2021.
Low-interest rates motivate homebuyers to seek out their dream homes but Redfin CEO Glenn Kelman cautions interest rates for buying or refinancing won't always be as optimal but does believe the current housing market boom is likely to last into 2021. And many experts expect to see current interest rates to fall below 3% by year's end.
Is 2021 the Time to Build?
According to the Urban Land Institute, a non-profit research/education organization, construction sales of single-family homes will hit 940,000 during 2021 and rise to 975,000 in 2022. The affordability of being able to build your own home by taking  advantage of low-interest rates offers prospective homeowners an opportunity they may not otherwise have experienced in their lifetimes. Couple this with a lack of available inventory on the market and 2021 may be time to build the dream home you've always wanted.
Home Sales Will Continue to Increase
Even though there's a housing inventory shortage across America, a recent report by NAR noted that existing home sales in September were on the rise by 9.4% with a median purchase price almost 15% higher than last year with an average home cost of $350,000. Industry experts project 6 million home sales in 2021, a slight downturn from the initial thought of 6.3 million, due to current economic conditions and slow growth in the supply of houses into the marketplace.
Home Values Will Continue to Increase
According to a market report by the online real estate company Zillow, home values will rise by 7.9% in 2021 but will gradually decline throughout the year. Realtor.com also agrees that housing prices are on the rise because of higher demand and the tighter supply of available homes for buyers to choose from.
Homes Are Predicted to Sell Fast
According to NAR, home sellers are reaping benefits from a 2-year high in listing price growth while noting that a home's listing time in the real estate marketplace is 2 weeks faster than those from a year ago. Buyers are eager and poised to take advantage of the all-time low-interest rates, while many are seeking affordability by relocating from cities into the suburbs especially if they're able to work remotely from home. Others are utilizing their buying power to snap up vacation homes.
Housing Inventory Will Continue to Be Low
At the end of September, there was just under a 3 month supply of homes available for sale across the U.S. according to NAR. Why? Buyers and sellers are uncertain during these fluid economic times so they're hesitant in confidently changing up their current circumstances, however, others are eager to buy a property or home they've looked at previously.
In these times of economic uncertainty, rest assured that DomiDocs has your back as a homeowner. DomiDocs provides continuous protection through its easy-to-use digital platform where you can confidently store all of your vital homeowner documents, schedule maintenance, and more, including knowing the current value of your home at any given moment.
Mortgage Rates Near All Time Lows and Should I Sell? 6 Questions to Ask…
Author – Connie Motz