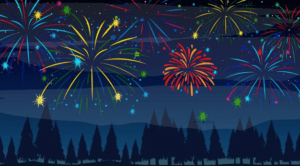 While fireworks are synonymous with summertime fun such as sporting events and Fourth of July celebrations, the upcoming holiday season is also a time when many families choose to make merry by enjoying a colorful fireworks display. And while it's fun for everyone to experience, it's important to note that approximately 19,500 fires were started by fireworks in 2018, which resulted in "$105 million in direct property damage," according to the National Fire Protection Association (NFPA). And 10% of fires from fireworks occur between December 30 to January 3, with the greatest amount of fires occurring on New Year's Day. 
Firework Safety Tips
So how can you be involved in fun holiday festivities while keeping you and your family safe? Besides never allowing kids to handle fireworks, nor to use fireworks in combination with alcohol or drugs, the National Safety Council (NSC) offers these firework safety tips:
read and follow all safety and warning labels, including storage recommendations and using fireworks at a safe distance away from structures, people, hazardous obstacles, and flammable materials as per manufacturer instructions
always follow local laws and regulations regarding fireworks
make certain your choice of fireworks are safe and legal; never attempt to make fireworks at home
designate only one user to come in contact with the fireworks, who should wear protective gear such as eyewear and gloves
don't point or throw fireworks at anyone
never hold a firework that's ignited
remember to only light one firework at a time and don't try to re-light a dud that won't ignite, instead wait for at least a half-hour before approaching for disposal
never light fireworks indoors
don't use fireworks in windy conditions
keep a precautionary water source and/or sand close at hand
soak both used and unused fireworks in water for at least 15 minutes before disposing of as per local regulations
Sparklers Are Not Toys
A burning sparkler can reach up to 2,000°F which can quickly ignite clothing or shoes and cause third-degree burns, and so should never be used by small children under the age of five. The NFPA states sparklers account for over 25% of emergency room visits due to firework injuries, while for kids under five they account for almost 50% of injuries. Eco-friendly and reusable glow sticks are a much safer alternative.
Securing Pets During Fireworks
While the loud sounds generated by fireworks can be startling enough to people, many pets can also experience symptoms of fear and anxiety during a firework display. If your pet exhibits wide eyes, pinned ears or pacing, chances are they're not happy with the alarming sounds of fireworks. Veterinarians recommend keeping pets safely at home and away from fireworks, or putting your furry friend in a quiet room while playing soothing music to help disguise the outside crackling and booming. You may also be able to distract them during fireworks by offering them a high-value reward such as a favorite toy or food they love.
Fireworks may be a New Year's tradition for your family, but we all know this year is about being adaptable and responsible. And while COVID-19 is no doubt interrupting everyone's plans for the holiday season, you can still witness a virtual New Year's Eve ball drop in New York's Times Square or fireworks from the Sydney Harbor Bridge in Australia.
Responsibility as a homeowner also means having a great insurance policy in place for those unexpected events that will no doubt occur in our lives. DomiDocs can provide additional peace of mind in knowing that your vital homeowner documents, including your insurance policies, are securely and safely stored on our user-friendly online platform. 
How to Keep Your Family Safe During the Holidays
Author – Connie Motz