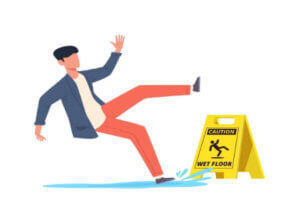 Think a slip or fall won't happen to you? According to the Centers for Disease Control and Prevention (CDC), more than 800,000 people across America have been hospitalized annually for fall injuries. A further study showed 62% of fall-related traumas were between the ages of 20 and 49. A slip or fall could happen at your primary residence or while you're out and about interacting with friends and neighbors. And it doesn't need to happen to you – it could be a courier dropping off a package or a mail delivery person who gets a sprained ankle from the uneven sidewalk you've been meaning to fix.
Homeowner's Insurance
If you hold a mortgage, chances are you've got homeowner's insurance as it's required by all major lenders. Personal liability coverage through your homeowner's insurance policy helps to protect you, your family, and visitors at your home. This form of financial security offers peace of mind should someone slip on an icy walkway in winter or heaven forbid bounce their way off your trampoline during summer.
Common Injury Hazards to Avoid
For a personal injury case to proceed, there needs to be established negligence on the part of the homeowner. This means an unsafe condition on your property needs to have caused the unfortunate accident. If you need to make a claim, or heaven forbid someone who visits your home decides to sue you for damages, you'll need to provide proof to the insurance company that the injury didn't result from misuse or neglect, as chances are they'll deny your claim outright. If you've done any repairs, upgrades, or used the services of a contractor, easily keep track of your home improvement receipts by uploading them into DomiDocs.
Common injury hazards to avoid around the home include:
icy or snow-covered walkways, stairs, and driveways
ice dams/icicles along your roof's edge
poorly lit sidewalks
tripping on carpets, area rugs, and/or floors including:

frayed carpets
rugs without grip pads
wet or freshly waxed floors
leaks from a ceiling

slipping on a staircase can be caused by:

objects on the stairs
poor handrails
varying height risers on the steps
carpeting on the stairs

negligent objects around your yard such as:

an unsecured swimming pool or trampoline
a semi-hidden garden hose
perilous outdoor stairs
uneven walkways
home improvement projects including strewn about tools and equipment that aren't cordoned off
Claiming a Personal Injury
Doesn't every homeowner have personal liability coverage? Not necessarily. There's a slight possibility some property owners won't have insurance if they own their homes free and clear without having a mortgage. So if you or another person are injured in a slip and fall, you'll need to:
establish if there is homeowner's insurance coverage
obtain the contact information for the insurance company
report the injury to the insurance company immediately who will assign an insurance adjuster to get the details of the incident; a recorded statement may be required by the adjuster (experts recommend seeking legal advice before doing so)
provide progressive medical records and documentation for any lost wages if treatment is required; claims are processed through the medical payment coverage portion of your homeowner's insurance (likely limited to a specific dollar amount), as opposed to the liability inclusion of your insurance
settle the claim/file a lawsuit against the homeowner to receive compensation in the worst-case scenario
How Will a Slip and Fall Claim Affect Your Homeowner Insurance Premium?
It's generally known that whenever a homeowner claims against their insurance, some insurers will hike up the premiums the following year and/or may cancel your coverage entirely. In light of such, some homeowners will try to settle a claim privately without having to go through their insurance company. Always consult with your insurance agent/adjuster as to the exact increase in premiums you could be facing if you choose to make a claim.
Where Are Your Insurance Papers?
It's a fact that 40% of homeowners across America can't find a property document when needed. The secure DomiDocs digital platform stores your vital insurance papers, including videos, photos, improvements and maintenance documents so they're conveniently accessible 24/7 should you need to defend yourself from a potential homeowner's insurance claim. You can also schedule regular home maintenance with helpful calendar reminders as well as knowing the real-time value of your home through the DomiDocs TrueValueIndex®.
Author – Connie Motz