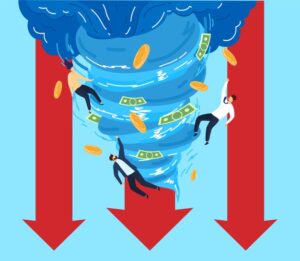 Think disasters only come in the form of hurricanes and tornadoes? Think again. The best way to prepare for the unexpected is through planning, and your finances are no different when it comes to an emergency situation – you need to be prepared. DomiDocs offers many resources to help keep your finances in check including the ability to safeguard your important household documents when disaster strikes. Let's take a look!
Establish an Emergency Fund
If you don't already have one, you need to create an emergency fund for you and your family. This solid financial goal can be as simple as keeping a small amount of cash on hand or it could be regularly contributing to an emergency savings account. According to Bankrate.com, an emergency fund should contain a starting point of $1,000 with the goal to continually add money, possibly by setting up a direct deposit, until you reach the point of being able to cover three to six month's worth of household expenses. Unexpected reasons why you need an emergency fund can include:
auto repairs

death of a family member

home repairs

medical/hospitalization expenses

natural disasters

unemployment
Ensure You've Got Accessible Credit
Besides having an emergency fund, being able to use already established credit during an emergency can literally be a lifesaver especially when it comes to covering day-to-day expenses during a disaster. Carrying minimal debt is a personal goal for many and it's a great idea to periodically review your credit score to ensure there aren't any discrepancies.
Ensure Your Insurance is Up-to-Date
Never let an insurance policy lapse and always do a regular check of policies to ensure they offer the coverage you need. This is even more important if you've done a number of recent upgrades or renovations to your home as these changes may not be reflected in your current insurance policy. It's also important to note that the majority of homeowner insurance policies don't cover losses from earthquakes, hurricanes, and/or flooding and so if you live in a high-risk zone, you'll need to purchase separate policies for these coverages. It's also extremely important to note the National Flood Insurance Program has a 30-day waiting period before flood insurance will take effect.
Keep Up With Home Repairs
Do you want to spend a little now or a lot later on? Let's say you've got some issues with your roofing such as a few missing shingles. Now say there's a hurricane that comes along and blows the rest of the shingles away at best. Your insurance company may be at odds with you as they could simply say you're at fault for not having fixed the roof earlier. Want to avoid such an unpleasant scenario? Keep up with your home repairs regularly by utilizing the DomiDocs preloaded maintenance calendar that comes complete with handy alerts so you can maintain your home with ease. Not sure who to call? Consult our DomiDocs list of trusted nationwide contractors. Plus you can also document your upgrades and improvements with DomiDocs which helps to increase the value of your property.
Do You Know Where Your Vital Household Documents Are?
If you can't find certain crucial paperwork during an emergency, your finances and future could be in limbo until you do. It's estimated that 1 in 4 Americans have lost or misplaced important household documents, while 40% can't find vital paperwork when needed. DomiDocs offers secure storage for all of your important documents such as your insurance policies, personal identification, medical information, and an emergency service provider contact list, as well as your legal and financial documentation. In the event you need to file an insurance claim, rest assured your paperwork is available 24/7/365 with just one click. 
Protect Your Home's Equity
Your home could be stolen right out from underneath you without you even being aware until it's too late. Think it can't happen to you? According to the FBI, property fraud is the fastest growing crime in America. Criminals can potentially use the equity in your home to take out loans which you may not become aware of until the lender starts to send letters of foreclosure. The legal ramifications of such a disaster could result in substantial expenses not to mention the threat of losing your home is entirely real. Early detection is the best defense to keep your equity and property intact. DomiDocs HomeLock™ protects your home with proactive monitoring that provides instant alerts to potential fraudulent scenarios, as well as by offering assistance if you've missed a payment, have an unpaid bill, or there's a clerical error at the county level.
Don't Put All Your Financial Eggs in One Basket
Not putting all your financial eggs in one basket isn't necessarily talking about where you've invested your money, but it's more about being able to access it in an emergency. In the case of a power outage forcing banks and ATMs to close, having cash readily available to cover expenses for a minimum of three to five days is a good rule of thumb. Online banks are another way to be able to access your cash during an emergency, should the brick-and-mortar banks be closed.
Know Your Options
In the case of a natural disaster that in turn causes a household financial disaster, there are other resources available to you through non-profit organizations and government programs such as those provided by the:
American Red Cross

Disaster Assistance Improvement Program

Federal Emergency Management Agency

Internal Revenue Service Assistance

Small Business Administration Disaster Assistance
DomiDocs is dedicated to helping you avoid financial disaster by offering peace of mind and 24/7/365 access to our user-friendly home management platform where you can maintain, store, and track your property digitally with ease. As an added bonus, these innovative services are already included with HomeLock™ monitoring so be sure to protect your property by signing up today!
Author – Connie Motz