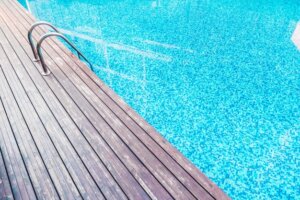 Unfortunately, life can be full of unforeseen and tragic events, but knowing how to prevent certain situations can be life-saving. According to the Centers for Disease Control and Prevention (CDC), drowning is one of the leading causes of death for children ages 1 to 14 and is the second leading cause of unintentional injury/death after motor vehicle crashes.
Where Do Drownings Occur?
Varying by age, infants can drown in bathtubs, while the highest risk of drowning for kids ages 1 to 4 occurs in swimming pools. The CDC states, "More than half of fatal and nonfatal drowning among people 15 years and older occur in natural waters like lakes, rivers, or oceans." Bathrooms and any standing open water can also be risky for adventurous toddlers: think that huge pet bowl full of water or that seemingly inviting birdbath.
Who's at the Highest Risk for Drowning?
According to the CDC, some people have a much higher risk of drowning than others:
Children: for ages 1 to 4, drowning kills more kids than birth defects

Males: almost 80% of drowning victims are male

Certain medical conditions: seizure disorders like epilepsy, along with heart conditions and autism are associated with a great risk of drowning
How Many People Drown Every Year in the US?
Alarming drowning statistics according to the CDC include:
8,080 nonfatal drawings, an average of 22 per day

3,960 fatal unintentional drowning, including boating-related incidents; an average of 11 per day
It's important to note that over 40% of drownings reported to emergency departments require hospitalization and further care; drowning injuries can cause long-term disability and/or brain damage.
Why Do Drownings Occur?
The CDC cites 6 major reasons as to why unintentional drownings occur:
drinking alcohol

ineffective or missing protective fence barriers around pool areas

lack of supervision is especially prevalent with children when they're near pools, hot tubs, ponds, drainage ditches, irrigation, wells, and standing water

not being able to swim

not wearing the required life jackets during swimming or boating

use of prescription drugs
How to Prevent Drowning
Besides doing the opposite of all of the above, it's key for parents and children to have an open and honest discussion about drowning hazards and what can be done to prevent them:
assign a designated 'water watcher' who will constantly keep eyes on any kids near water; take turns after a short time and rotate the responsibility among adults

be observant and avoid distractions such as cell phones and impairment are vital, and this can be especially true when children are with caregivers

high fences (at least 4-feet tall with no openings at the bottom) with self-closing/locking gates can help deter small children from entering a pool area by themselves; consider installing an alarm to alert you to any unwanted pool use

always be sure to use your pool and hot tubs covers but know they're not substitutes for fencing/alarms

as a family activity, you can take swimming lessons and learn life-saving CPR basics

if you're in and around bodies of water, kids need to understand it's a necessity to wear approved life jackets at all times; this may also apply to adults when boating so be sure to know your local regulations

if you have a pool in your yard, be sure to have rescue equipment including a life preserver

never let kids out of your sight when they're near water; the American Academy of Pediatrics recommends touch supervision where children are kept within arm's reach at all times.
While we sincerely hope you'll never have to face a tragic situation such as this, it's all about being proactive in anticipating unfortunate situations before they can occur. The same goes for proactively protecting your home from title fraud, clerical errors, missed payments, or unpaid bills with HomeLock™, our 24/7/365 scanning and monitoring system. Secure your home and equity today with HomeLock™!
Author – Connie Motz