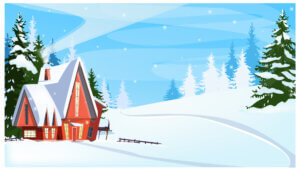 According to the German insurance company Munich Re, winter storms in the US were responsible for $2.1 billion in damages during 2019 including insured losses by events such as blizzards, cold waves, and flooding. Check out these winter home maintenance issues and fixes designed to help minimize your insurance risks while keeping you and your family safe and cozy throughout the potentially harsh winter season.
Clear Any Ice Dams
When it freezes, ice dams can form along your gutters and roof's edge. Ice dams materialize when a warm roof melts the ice and snow, but then the water accumulates and freezes on the colder eaves. If melting snow can't drain past the ice dam, your home could experience water leakage through your roof resulting in damage to walls, insulation, and ceilings. Besides trying to break apart the ice dam in small chunks with a dull tool like a blunt mallet- as a sharp one could cut through your shingles and into your roof – the main way to prevent ice dams is by maintaining a consistent temperature throughout your roof which can be done by increasing both insulation and ventilation.
Clear Icicles & Your Gutters
If your gutters are clogged before the winter season even starts, you could be setting your home up for an increased chance of water damage simply because the melting snow and ice won't have anywhere to go. Besides removing debris from your gutters, you'll need to regularly clear icicles along the edge of your roof as they pose a falling ice injury risk. If you're not keen on climbing a ladder to do either, hire a professional by consulting the DomiDocs' list of trusted nationwide service providers.
Maintain Your Driveway, Stairs & Walkways
While you may have personal liability coverage through your homeowner's insurance policy, heaven forbid a delivery driver slips on an icy walkway at your home during winter. Remember that it's your responsibility as a homeowner to keep your driveway, walkways, and stairs clear of ice and snow. There are many eco-friendly ice melting products on the market that are safe for both concrete and pets. Solar-powered LED lights along your walkways are especially welcomed in winter when sidewalks can appear clean but may still be icy. If you've got low hung tree branches, be sure to brush off snow and ice as it accumulates throughout the winter season.
Inspect Your Basement Window Wells
These semi-circular excavations around your basement windows provide much-needed daylight especially throughout the somewhat dreary winter months, as well as by offering emergency access into your home. But to prevent basement water damage from your window wells, you'll need to ensure the liners are firmly in place and aren't damaged. To keep snow from clogging the wells, you can purchase window well covers to help prevent any build-up.
Inspect Your Sump Pump
If you're located in a high-risk flood area, chances are you already have a sump pump installed. Check the exit pipe to ensure it's clear of any debris and that water will be directed away from the foundation of your home. It's also good to know that your sump pump has a life span ranging from seven to 10 years. Follow the manufacturer's instructions on how to test your sump pump and if you're not sure, a professional sump pump inspection can cost between $117 and $235 according to industry experts. You can add water leak alarms to further protect your home from dreaded moisture and the harm that could follow.
Examine Your Electrical System
While the thought of inspecting your home's electrical system can sound daunting, it's important to help ensure your system won't fail during the cold winter months. If your home has ground fault circuit interrupter (GFCI) outlets, which are standard across America in locations susceptible to moisture, you'll need to check them using the purple 'test' button found on the outlet.  You should also 'test' the breaker on the GFCI electrical sub-panel. Check your circuit breakers for visual clues of damage such as discoloration, wear, frayed wires, and or burn marks. If you're at all in doubt about your electrical system, it's best to call in a professional.
Heating, Ventilation and Air Conditioning (HVAC) & Radiators
As you'll never want to find yourself without heat when a winter storm sets in, the HVAC system of your home needs to be regularly maintained so it performs optimally. Adding 1 cup of vinegar into the maintenance line every 30 days, as well as changing the filters monthly will help keep your home toasty warm throughout winter. If your home has radiators, you'll need to bleed them annually to ensure they're running efficiently. Here's how to bleed your radiators:
turn the heating system on high
check to see that the circulating pump on the furnace is activated
turn off the heating system and let the radiators cool
beginning with the first radiator closest to your boiler

turn it off and place a tray under the bleed valve
open the valve to let the air and any water escape
close the bleed valve

repeat the process for each radiator in your home
You should also check your heating boiler to ensure the air pressure is within the manufacturer's recommended level.
Insulate Your Pipes
Stressless fall home maintenance tips include weatherproofing any exterior pipes around your home, but if you haven't done so yet, there's still time to wrap your pipes with insulating tape to prevent freezing, cracking and ultimately structural damage. The same goes for insulating pipes in your basement as a burst pipe at best can cause floor/carpet damage, but could require a complete home overhaul. According to Peter Kim, Assistant Vice President of Philadelphia Insurance Companies, "our average loss related to frozen pipes is $27,000, but our most expensive claim was 1.7 million," stated Kim. "People tend to get complacent about winter storms, but they can be extremely damaging. There's very little awareness of the significance of the loss potential."
Maintain Your Windows
Windows require maintenance right down from regularly cleaning the glass with a vinegar solution to cleaning out the weep holes with a small brush or even a toothpick, as well as keeping the tracks and sills clear of dirt and debris. Your window hardware and locks should always operate freely. Check to be sure any screws are tight, and that the weather stripping and caulking seals are all in good condition. If you live in a particularly harsh winter climate, storm windows are a great economical option for adding insulation to your home. If your home has windows that are between 15 and 30 years old, you may want to consider a spring renovation project that'll add value to your home by replacing old windows with new energy-efficient options that are easy to clean/maintain, such as double-hung windows and/or tilt-out sashes. The U.S. Department of Energy states that 10 to 25% of your home's heating bill is a result of heat loss due to having inefficient windows in your home.
Winter Storm Prep
It always pays to plan especially when it comes to unexpected extreme cold and winter storms. Stock up on that organic de-icer. Dig out your gloves, window scrapers, and snow shovels from storage. Maintain your snowblower by changing the spark plug, inspecting the belts, and topping it up with gas; follow the manufacturer's recommendations for regularly changing the oil. Make sure your back-up generator is in working order. In the case of lost cell phone reception, it never hurts to have a solar or battery-powered radio on hand to keep up with the current weather conditions. In the case of storm damage or other natural disasters, contact your homeowner's insurance agent immediately for assistance.
No matter what this winter season brings upon us, DomiDocs has got you covered. If the unthinkable happens and you need to File an Insurance Claim, you can easily access all of your vital homeowner insurance documents online through our easy-to-use platform. Not sure that you'll remember to do all these winter home maintenance tasks? DomiDocs has you covered there too with its maintenance schedule and calendar reminders. You got this!
Author – Connie Motz