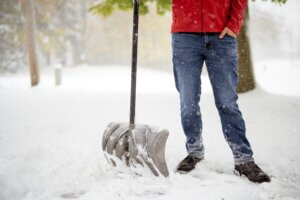 In 2019 alone, harsh winter storms resulted in $2.1 billion in damages to homes across the U.S. due to events like blizzards, extreme cold, and flooding. Is your home prepared for this type of natural disaster? DomiDocs and industry experts offer the following home maintenance tips to mitigate your insurance risk while keeping your home and family safe and warm during winter. Not sure what to do when? DomiDocs also provides tools homeowners can use daily, including maintenance and calendar reminders.
Keep it Cozy
Insulation is key to ensuring your home is operating at its optimum level throughout the harsh winter season and beyond. Besides insulating your attic, basement, and walls, check the weather stripping and caulking around all of your doors and windows to prevent hot air from leaking out and cold air from getting in. Storm windows or plastic window films work well to help seal off any airflow.
Protect Your Pipes
You can allow your faucets to drip slightly during winter to help avoid freezing or you can wrap any exposed water pipes in your crawl space, basement, or externally, with insulating tape. According to the National Flood Insurance Program (NFIP), "Just 1 inch of water can cause $25,000 of damage to your home," so everyone in your household should know where the water shut off valves are located and how to turn them off in an emergency.
Flood Insurance
In general, the majority of homeowner insurance policies do not cover losses from flooding and so if you live in a high-risk flood area, you'll need to purchase separate flood insurance coverage. The NFIP provides flood zone and map resources while cautioning that "Your home's flood risk can change over time due to weather patterns, land development, and erosion." They also warn it's extremely important to note it takes 30 days for a flood insurance policy to go into effect so you'll need to plan ahead. The NFIP also suggests mitigating your flood risk and reducing your flood insurance cost by:
providing an elevation certificate
choosing a higher deductible
elevating your property and/or utilities
filling in a basement that frequently floods
installing flood openings
installing water leak alarms and/or a sump pump
relocating your home to a different spot on your property
Maintain Your Heating System
To ensure your home will be comfy and warm during winter, you should have your heating system inspected annually before the cold weather arrives. The same goes for your fireplace and chimney to prevent creosote buildup. According to the U.S. Consumer Product Safety Commission, there's an average of 22,300 chimney fires each year across America. Industry experts suggest having at least one fire extinguisher for each floor of your home, including the kitchen, garage, and basement, and to make sure everyone in your home knows how to use them in case of an emergency.
Keep the Snow & Ice at Bay
Besides clearing the obvious snow and ice from your sidewalks, stairs, and driveway to maintain safety, you'll need to judiciously remove any large accumulations of snow from your home's roof as it's heavy weight can cause a huge amount of pressure on your home's overall structure. However, snow removal from your roof is one of those jobs that's best left to the professionals. Not sure who to call? Consult the DomiDocs list of trusted nationwide contractors. The same goes for accumulating icicles and ice dams that may form in your gutters if they haven't been clean recently. And while you're tending to your gutters, it's the perfect time to trim any tree branches that could break away and fall on your home, or a neighbor's, during a severe storm.
Maintain Clean & Safe Air
Change the batteries and check to make sure all carbon monoxide, radon gas, and smoke detectors are in working order. According to Harvard Health Publishing, as part of Harvard Medical School, 15,000 Americans are treated each year for carbon monoxide (CO2) poisoning resulting in approximately 500 deaths. Regularly changing and/or cleaning your home's furnace filter, along with the exhaust fans in your kitchen and bathrooms, helps to eliminate dust and ensure adequate ventilation. And since we're all spending more time indoors during the COVID-19 pandemic, good hand washing and antibacterial soap are musts.
Essential Emergency Supplies
During a winter storm, the unexpected can happen so be sure you're stocked up on the basics including plenty of food and water. The Federal Emergency Management Agency (FEMA) suggests having the following on hand as part of a home emergency kit:
battery or hand-crank radio
can opener
cell phone with a charger and an extra battery
duct tape and plastic sheeting to temporarily cover holes or damage in your home
extra batteries
face masks
first aid kit
flashlight
local map
personal sanitation items like moist towelettes and garbage bags
whistle for signaling emergency help
You'll also need a selection of snow removal tools including a shovel, eco-friendly ice melting products, and fuel if you use a snowblower.
Even during the unpredictable winter season, you can count on DomiDocs to keep your vital home documents safe and secure with our user-friendly digital homeowner enablement platform. We've got you covered! For additional information, read Winter Home Maintenance Issues & Fixes and how to File an Insurance Claim.
Author – Connie Motz