"An hour of planning can save you 10 hours of doing." – Dale Carnegie
Such an accurate statement, don't you think? As homeowners, if you spend even one hour planning for a natural disaster such as wildfire, you'll be far ahead of most Americans according to a recent study:
Are you ready for this?
84% of Americans reside in areas that have experienced recent natural disasters
54% reside in areas that have experienced major natural disasters including earthquakes, floods, hurricanes, tornadoes, or wildfires
Chances are pretty good that you're going to unfortunately be involved in a natural disaster scenario whether you're prepared or not. The Wells Fargo & Company survey goes on to advise that:
Forecasters at the National Interagency Fire Center (NIFC) are predicting an above-normal wildfire season primarily due to a lack of precipitation during the spring.
Wells Fargo & Company:
71% of Americans stated they don't have a detailed natural disaster emergency plan

40% of those said it's because they've never thought about it

31% said they just have gotten around to it

16% stated they don't know how to prepare
Wildfire stats.
Brace yourself as this isn't going to be pretty. In recent years, the NIFC reported nearly 7.13 million acres of land burned across the country due to wildfires, with just over 3 million of these being human-caused. The National Park Service (NPS) states that wildfires can naturally break out due to lava flow or lightning strikes from a storm, but notes the majority of wildfires across the US are caused by people including carelessly discarded cigarettes and unattended campfires.

Wildfires tend to occur more frequently in the Central and Eastern states, but wildfires in the Western states tend to burn more acreage overall, such as with the 9,000 wildfires that ravished almost 2.23 million acres in the state of California not long ago. According to the US Department of the Interior, the top states affected by wildfires are:

California

Texas

North Carolina

Montana

Florida

Oregon

Georgia

Minnesota

Washington

Arizona
The estimated loss of wildfires across the US can cause estimated damages in the billions.

Wildfire categories defined.
The NPS defines a wildfire as being a general term used to describe any unplanned/uncontrolled non-structure fire that occurs in grasses, shrubs, and trees. To take hold, wildfires require a trifecta, or a fire triangle, that includes fuel, heat, and oxygen for them to initially ignite and then continue to burn. The NPS identifies 3 types of wildfires:
The National Wildfire Coordinating Group notes classes used to identify the size of a wildfire: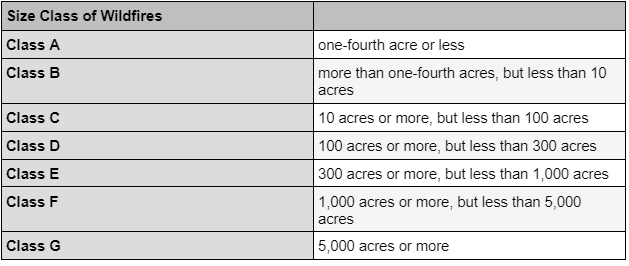 How long is the wildfire season in America?
It's generally said by the USDA Forest Service that the wildfire season in the US runs from May through October while noting that wildfires can occur at any time during the year. However, the Forest Service has been recently shifting to the concept of a year-round fire season which now lasts up to 8 months. Contributing factors can include drought conditions, dead trees from pine beetles, and even invasive species such as highly flammable cheat grass, especially abundant in California.
How DomiDocs can help you navigate through a storm.
The keys to helping you weather any natural disaster are always going to be the same: knowledge and organization. It basically comes down to homeowner responsibility and doing your due diligence to protect both your family and your home before a disaster strikes. Use the secure, award-winning DomiDocs homeowner platform to:
upload a detailed home inventory list itemizing your home's contents including receipts, photos, and videos of your home's current condition

store and catalog your proprietary household paperwork using the Insurance Document Bundle feature where your insurance policies are listed to show the company, coverage, cost, and start- and end-date of each, displayed with a calendar timeline for quick reference when needed. Besides for your own use, you can share with your insurance agent at the touch of a button if need to file an insurance claim

work your way through our comprehensive DomiDocs

New Homeowner Guide

offering best use instructions to help prevent homeowner claims
The basics of wildfire preparedness.
According to CAL FIRE, the American Red Cross, and the National Fire Protection Agency (NFPA), you should do the following basics: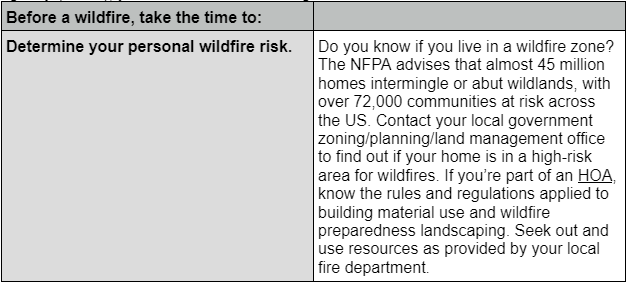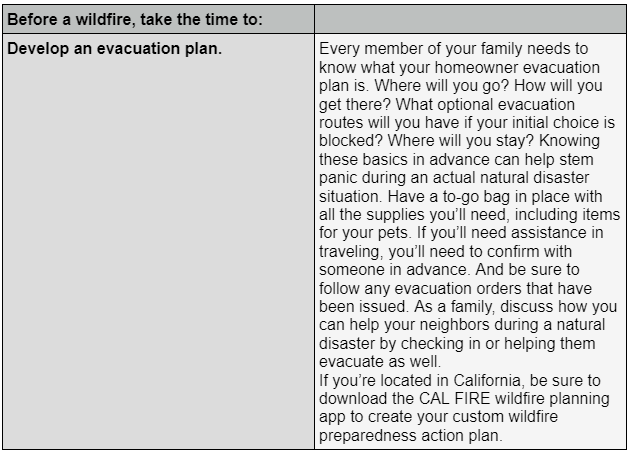 The Problem with Insurance Companies
When you're in the midst of a dealing with a natural disaster, there's no doubt you'll also be dealing with your insurance company. DomiDocs CEO and Founder, William McKenna, advises to never accept your insurance company's first settlement offer as chances are it'll be a low-ball offer they're just hoping you'll take without question. Many attorneys agree that the initial offer by an insurance company should immediately be rejected. What should you do? Access your personal profile on the DomiDocs home management platform, and submit your documented receipts, photos, and videos to your insurance adjuster with just one click. Take the time to factor in missed wages, medical bills (current and future), vehicle repairs, and any other losses that occurred before accepting any settlement offers.
DomiDocs has your back! Whether it's wildfire preparedness, How To File an Insurance Claim, or mental health tips in The DomiDocs Guide: What to Do After a Hurricane Hits, we're here for every step of your homeowner journey.
Never accept an insurance company's first settlement offer:  McKenna himself was initially offered a $13,500 settlement offer for damages sustained to his home's roof by a sudden, unexpected microburst. By providing his documentation  already stored in the DomiDocs homeowner platform,  McKenna's settlement was increased to $201,000,  proving the true unmeasurable value of DomiDocs.
DomiDocs HomeLock™ can provide you with an extra layer of protection by digitally locking your home against virtually all homeowner fraud, including title & deed theft. Why? Because property fraud is the fastest growing crime in America! Visit HomeLock™ today to watch our introduction video, and when you sign up, you'll receive your comprehensive 7-year home history report and scan free of charge.