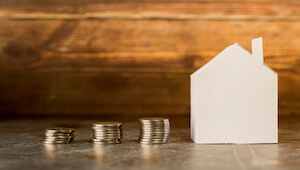 Your home is probably the largest asset you own so it's important to keep it in the best shape possible. This will help to increase your equity and will get top-dollar should you decide to sell. Here are some great ways to increase the value of your home.
Choose Your Colors Wisely
According to a 2018 Paint Color Analysis by real estate marketplace Zillow, you can increase your home's value by more than $6,000 if you simply paint your exterior front door charcoal gray or black. Who knew? The same goes for contrasting upper and lower kitchen cabinets where you could net a $1,5000 premium, while a bathroom that's painted light blue can improve the market price by nearly $2,800. If you add all three together, your choice of colors could bring in more than $10,000 extra when it comes time to sell your home.
Check Your Curb Appeal
We all know first impressions are key and the same goes for your home. If buyers don't like what they see from the outside at first glance, they won't want to look inside. Adding native shrubs and trees is a great way to affordably increase your home's value. Keep your lawn manicured and trim any overgrown bushes. The condition of your driveway and sidewalks are also part of the curb appeal so take care of those necessary repairs. Other small fixes can include painting your front door, updating the lockset, replacing your house numbers and/or the mailbox, and adding outdoor landscape lighting.
Add Smart Technology
Let's face it, smart technology has its appeal. You can make your home more tempting to buyers when it offers safety-enhancing technology such as smart carbon monoxide detectors, door locks, lighting, security cameras, smoke detectors, and thermostats. Besides protecting your home from potential thieves and disasters with smart technology, DomiDocs HomeLock™ provides proactive property monitoring and home title tracking to protect your home from deed and title fraud. View the video and start monitoring today!
Maintain Your Home Regularly
While living in your home, you may become oblivious to small things needing repair, but these same things may be extremely noticeable to buyers who may then wonder what else may be wrong with your home if you haven't fixed something obvious. Do a walk-through of your home noting anything that needs fixing. It's easy to keep on top of regular household maintenance by using the DomiDocs preloaded maintenance calendar that comes complete with handy alerts so you'll never miss another homeowner task.
Clear the Clutter
While it may seem normal to you, a cluttered and unkempt home signals a few things to buyers such as: is your home that hard to keep clean, and is there not enough storage? Removing the clutter and ensuring your home is clean from top to bottom always makes for happy prospective buyers.
Update Your Lighting
Bright, well-lit rooms can make any space within your home seem larger. Think about replacing your kitchen or dining room fixtures for an instant pick-me-up. Task lighting underneath a kitchen cabinet can be just what a buyer needs to see as they'll know it's a usable space. You can add a ceiling fan/light combination to your living area or consider brightening another with recessed lighting.
Remove Those Popcorn Ceilings
Nothing outdates your home more quickly than by having textured ceilings so you may want to think about replacing them as it's not likely an issue potential buyers want to deal with. It's important to note that while you can purchase popcorn ceiling removal solutions from your hardware store, the popcorn structure in older homes could contain asbestos which will need to be professionally removed. Not sure who to call? Consult the DomiDocs list of trusted nationwide contractors.
Get a Home Inspection Done
A home inspection is a visual assessment of a house's physical structure and mechanical systems, including the roof, ceilings, walls, floors, windows, and doors, including if major appliances are functional, scrutinize the heating and air-conditioning system, examine the plumbing and electrical systems and may even poke around in the attic and basement. Essentially, a home inspection identifies areas of concern that can be corrected before they ever get to a buyer. Having conducted a proactive home inspection exudes confidence to prospective buyers that they're making a sound investment in purchasing your home. A typical home inspection will cost around $300-500.
Location. Location. Location.
While you obviously can't change the physical location of your house, if you're situated close to a military base or facility, Zillow states your home is worth 34.8% more than the average area home. Higher home values also apply to neighborhoods near sizable metro areas as they offer easy access to city resources.
Now that you know what to do to increase your home's value, it's time to read: don't decrease your property's value, avoid these homeowner mistakes! Our DomiDocs digital home management platform is committed to providing the most up-to-date news, tips, and tricks for homeowners, along with the ultimate deed & title fraud protection for your home with our HomeLock™ property monitoring and home title tracking.
Author – Connie Motz