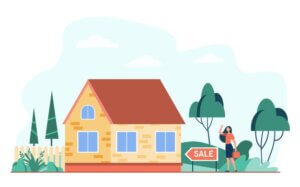 Were you picky when it came to choosing your new home? No doubt you spent a lot of time researching the home's features and area amenities before making one of the biggest financial investments of your lifetime. It's important to channel this same attention to detail when shopping for your homeowners insurance policy as it's vitally important to find the right coverage to protect you and your family from financial disaster due to unforeseen circumstances. Here's our DomiDocs' Guide to Buying Homeowners Insurance.
What is a Homeowner Insurance Policy? 
Homeowners insurance, or a homeowners insurance policy, provides financial protection if a homeowner's house or its contents are damaged. It also protects in the case the insured or their family are held liable for injuries to other people or damage to their possessions while they're on the property. 
How Much Does a Homeowner Insurance Policy Cost?
Factors that influence the amount you'll pay for homeowner insurance include but are not limited to your:
credit score

& history

home's age, basement type, electrical wiring, heating system, location, overall condition, and size

proximity to a fire hydrant or station

required dollar coverage

marital status
The National Association of Insurance Commissioners notes the average homeowner's insurance policy in the US runs more than a thousand dollars per year. If you own 'high-risk' items such as a swimming pool or a trampoline, these toys can increase your homeowner insurance policy premiums due to the possibility of them causing damages or personal injury.
Here's How to Save Money When Buying Homeowner Insurance
The easiest way to save money on homeowners insurance is by bundling it up with your vehicle coverages. You can also consider raising your homeowner policy deductible, which lowers the insurance premium, but you'll need to be prepared to pay more out of pocket upfront. Or you can take advantage of insurance discounts if you have a security system installed, or safety equipment like smoke detectors, deadbolts, and fire extinguishers. Find out if you're eligible for a homeowner insurance policy discount here! Reasses your homeowners insurance policy annually to ensure it's the best fit for your ever-changing homeowner needs including coverage for new additions or renovations.
Shop & Compare Homeowner Insurance Policies
Insurance expert, Professor Jay Feinman of Rutgers University Law School, says, "Probably the biggest mistake that people make when buying homeowners insurance is to focus on price rather than coverage or quality. You need to understand the type of insurance you're buying, what is covered, and what is not." Feinman continues, "Two-thirds of American homes are significantly underinsured. Try to get an accurate idea of what the actual costs would be to rebuild. When many people need to rebuild at once, as with a natural disaster, costs go up dramatically," he says. As a rule of thumb, you should obtain three homeowner insurance rate quotes to ensure you're getting the best coverage for your needs. And, it's just as important to shop around for a great insurance agent who will be there when you need them.
Replacement Cost or Current Market Value?
Real estate professionals agree that homeowners should seek out a replacement-cost insurance policy over a cash-value policy that may come up short as it only offers reimbursement for the current market value. Communications consultant at the Insurance Information Institute, Lynne McChristian, says, "With replacement cost, you may pay 10%-15% more for coverage, yet you get much more when you file a claim."
What Isn't Covered by a Homeowner Insurance Policy?
Broadly speaking, a homeowners insurance policy is limited to covering the physical dwelling, personal property, and structures on the property; it may or may not include liability coverage. War, along with natural catastrophes such as earthquakes, flooding, sinkholes, and hurricanes, are generally not covered by a homeowner insurance policy, however, you may be able to purchase separate policies for these types of disaster scenarios. If you own collectibles, expensive jewelry, or artwork, you'll need to have additional policy protection to make sure replacement costs are covered. Iowa Insurance Division Commissioner Doug Ommen says, "Many consumers wait until after a catastrophic event to read their policy. If you wait until your basement is full of water, it is too late."
Do You Know Where Your Homeowner Insurance Documents Are?
It's suggested that 1 in 4 Americans have lost or misplaced important property documents, while 40% can't find vital household paperwork when needed. Get ahead of the curve by securely storing your homeowner documents on our free DomiDocs' user-friendly digital platform. There's a popular insurance bundle where you can upload your homeowner, flood, and liability insurance policies so they're accessible 24/7/365 with one click.
Here's hoping you'll never be required to file a homeowner's insurance claim, but if you need to, knowing you've got reliable and complete coverage goes a long way as far as peace of mind. You can further protect your home from title fraud, missed payments, clerical errors, or unpaid bills with HomeLock™, the most complete home title and property fraud protection available today. You'll get instant platform access, including a title and deed scan, so be sure to sign up for HomeLock™ today!
For more information on homeowner insurance, read:
7 Super Easy Ways to Save on Homeowner's Insurance
The DomiDocs' Guide to Choosing a Homeowner Insurance Agent
Author – Connie Motz