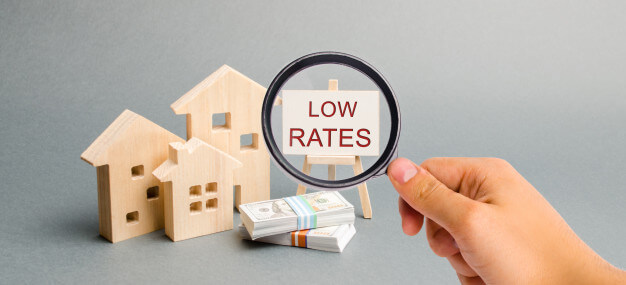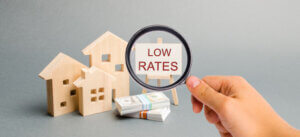 Now that we're most of the way through the year, it's a perfect time to update our 2021 Housing Market Predictions for 2022. While the housing market continues to be strong, there are still concerns about a lack of inventory and affordability issues due to surging home prices. Let's take a look at 2022 Housing Market Predictions & Trends.
Is the Housing Market Boom Finished?
According to Realtor.com®, the current housing market inventory is 33% less than normal. This limited supply means housing prices will continue to rise even though interest rates are still historically low. The average median home price across the board in June 2021 was $385,000, an increase of 12% over last year, with 43% of housing sales running in the $250,000 to $500,000 price range. 
And while housing inventory in some cities across the country is increasing, a report by CoreLogic predicts home prices will increase by 3.2% from June 2021 to June 2022, while Zillow predicts home values will go up by 11.8% during the next year. 
Norada Real Estate Investments states, "The housing market continues to sizzle resulting in higher home prices and quick-selling homes." The only factor of concern is the housing supply which continues to fall short of demand. The US housing market is far from crashing in 2021 or 2022. In fact, it continues to play an important supportive role in the country's economic recovery. Current economic conditions resemble a "swoosh" pattern, with the initial impact from the lockdown followed by a gradual recovery as the economy reopens." CoreLogic reported over 50% of homes for sale were sold for over the asking price, "We've been tracking housing prices for over 20 years, and we've never seen anything like this." 
It's also interesting to note that many foreclosures due to the pandemic won't be processed until 2022 meaning a new wave of foreclosed homes may overwhelm the market and could result in plummeting prices.
Will Mortgage Rates Rise?
Realtor.com® notes mortgage rates have been dwindling since November when they reached a peak of 4.94%. By January 2021, they hit a record low of 2.65% but have rebounded slightly in June up to 2.78% for a fixed 30-year term. And while lower mortgage interest rates give more buying power, they can also push home prices higher meaning affordability might become a more prevalent challenge for prospective buyers. Chief economist at CoreLogic, Frank Nothaft says, "Mortgage rates are rock-bottom and record low, but they will not stay like that forever," Nothaft says. "Over the course of 2022, we'll see a gradual rise, probably about half a percentage point higher than in 2021." Freddiemac forecasts 30-year interest rates to rise to 3.8% by the end of 2022.
Is Now the Time to Build?
Economist Bill Conerly noted in his recent article for Forbes.com, "Lumber and plywood prices have jumped through the roof in the US. Building material prices will retreat in 2022, returning to pre-pandemic levels by 2023." Rober Dietz, Chief Economist at the National Association of Home Builders (NAHB) agrees, "Builders are contending with shortages of building materials, buildable lots and skilled labor as well as a challenging regulatory environment. This is putting upward pressure on home prices and sidelining many prospective home buyers even as demand remains strong in a low-inventory environment." 
The NAHB also noted building material shortages are causing major delays for contractors so if you decide to build now, be prepared for a much longer building time frame overall, which will most likely be coupled with more construction delays than normal. The Mortgage Bankers Association forecasted new builds of single-family housing in 2021 to be 1.134 million units, 1.165 million in 2022, and up to 1.210 million in 2023. Nothaft notes that while lumber prices are easing slightly with the construction of new sawmills across the country, supply is a long way away from meeting demand.
Hot Housing Markets
A report by Realtor.com® citing America's top 10 housing markets notes home prices are predicted to grow by 6.9% with sales increasing 13.1% year-over-year. These top 10 metro cities and tech hubs include:
Sacramento-Roseville-Arden-Arcade

San Jose-Sunnyvale-Santa Clara

Charlotte-Concord-Gastonia

Boise City

Seattle-Tacoma

Phoenix-Mesa-Scottsdale

Harrisburg-Carlisle

Oxnard-Thousand Oaks-Ventura

Denver-Aurora-Lakewood

Riverside-San Bernardino-Ontario
The median home price in Sacramento for 2021 is $554,000 with a suggested price increase of 7.4% and home sales by 17.2%. Due to the popularity of working remotely, many people will seek out cities with a decreased cost of living. CEO and Co-Founder of EasyKnock, Jarred Kessler, says, "As companies announce plans to allow employees to permanently work remotely, high-tax cities will continue to see a talent drain. Second-tier cities like Austin, Charlotte, and Tampa will experience a residential building boom."
Be Prepared to Act Fast
With fewer homes available, time on the market is 19 days less on average over last year so you'll need to be organized to grab the home of your dreams. Prep your finances by knowing your credit score and having all your financial documents ready to go including recent pay stubs, bank statements, and tax returns. You can then submit the paperwork to apply for mortgage pre-approval with a lender, who will then provide you with a letter of pre-approval you can submit along with your offer to purchase a home. Even though it's not a formal mortgage approval, as long as your lender can verify your information and the home you want to purchase appraises for an amount that supports your loan request, you'll be able to get a mortgage to buy it. Where are your documents when you need them? You can easily upload and organize your financial paperwork with our free DomiDocs home management platform. And when you're done, you can send everything off to your prospective lender with just one click. 
It's Not a Lost Cause
While obtaining homeownership at this point in time may be a challenge for some, others can take advantage of low mortgage interest rates, as well as a stronger job market that can help to grow savings towards a downpayment. If you're lucky enough to be working from home, this could free up extra cash that would otherwise be spent on commuting costs, including fuel and insurance, along with simple things like lunches and those pricey morning lattes. It's also a great time to refinance and take advantage of lower rates if you're already a homeowner. Chief Economist of Redfin, Daryl Fairweather, says, "By the end of the year, the homeownership rate will rise above 69% for the first time since 2005."
Heed This Cybersecurity Warning
As the real estate market becomes more digital, the importance of cybersecurity is more prevalent today than ever. Executive VP at ServiceLink, Kiran Vattem, says, "While Covid-19 has accelerated digital adoption across the mortgage life cycle — making real estate transactions more automated and streamlined — it has also opened the industry up to new security vulnerabilities and potential for hackers to access sensitive data." 
Use our DomiDocs platform to securely store your homeowner documents, and be sure to protect your family home from title fraud, missed payments, unpaid bills, and clerical errors, and more with DomiDocs HomeLock™.  You can protect your home and equity with 24/7/365 monitoring for as little as $3.88 per month. The bigger question is, can you afford not to have HomeLock™?
For more information, read:
6 Crucial Tactics for First-Time Homebuyers
Tips and Tricks to Help Win a Bidding War
Author – Connie Motz