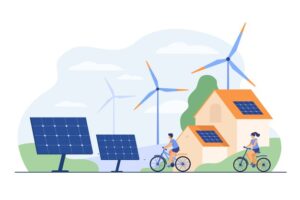 Are you considering buying solar panels for your home? Even though they're becoming increasingly popular as they reduce the energy consumption required from your utility provider, much of the dilemma in making the leap into solar panels, also known as a photovoltaic or PV system, is figuring out whether or not it will be a cost-effective choice in the long run. Let's take a look at the logistics of installing solar panels for your home.
It's a Long Term Investment
How long do you plan to live in your home? While it's a great idea to save energy by capturing and converting sunlight, experts advise it will take approximately 7 years for you to break even on your residential solar panel investment so installing a solar panel system can't be thought of as a quick way to keep money in your pocket. To enjoy the profitable benefit of installing solar equipment, you'll need to commit to staying in your home for many years to come.
How Will You Pay for Installation? 
According to the US Department of Energy's EnergySage, the average cost of installing a residential solar panel system is approximately $20,000 after tax credits or about $2.81/watt for a 10 kW system. Do you have the cash on hand, are you ready to take out a loan, or maybe you're thinking of using the equity in your home? Any way you look at it, it's a large expense to undertake as a homeowner so be sure you're financially prepared to do so.
How Does a Solar Panel System Work?
Generally, solar panels capture the photons produced from sunlight and generates them into direct current (DC). However, most residences operate on alternating current (AC) so a solar panel system will also consist of a DC to AC inverter. Besides the panels themselves, some solar panel systems will incorporate PV batteries to store solar energy for future use. 
Types of Solar Panels
While there are many variations of solar panels, the most popular are:
Amorphous

– usually consist of thin silicon sheets attached to glass, metal, or plastic; used to be more popular as they were originally less expensive than other panel types

Monocrystalline

– these are the oldest workhorse of the panels as they're reliable, long-lasting, and are efficient, but they're also the most expensive option

Polycrystalline

– they're less efficient so you'll need more panels, but they're also less pricey than monocrystalline panels
Solar Panel Configurations
Besides choosing the specific panels themselves, there are three general solar panel system types for your residence:
| | | |
| --- | --- | --- |
| Grid-Tied | Off-Grid | Grid-Tied with Battery Backup |
| your solar panels will be connected to your local utility company's power grid | since you won't be connected to a utility power grid, you'll need to pony up for a battery bank to store your excess energy | this is a great option for homeowners who want to store up some electricity in the case of a power disruption |
| you'll generally be set up with a net metering system whereby you'll only be charged for the net amount of energy you're consuming  |   | or if your utility company caps and increases rates after a certain usage level |
| you may even earn credit if your system produces more electricity than you're consuming |   |   |
| the energy is stored in the grid meaning you won't need to purchase a pricey battery bank |   |   |
Do Your Homework
There are five major factors you need to consider before installing a residential solar panel system:
How much is your current electricity bill?

Utility companies charge you for every kilowatt-hour (kWh) of electricity used and the rate you pay will vary depending on where you're located. According to the US Energy Information Administration, in February 2021 the average price of electricity was 13.34 cents per kWh across America, while residents of Hawaii paid 32.36 cents and 24.77 cents in Oklahoma, and those living in Missouri only paid 9.35 cents. If you're a homeowner facing a high electricity rate, you're among those who would benefit most by switching to solar power.
Shading analysis.

How much sunlight does your roof routinely get every day? Shading obstructions can occur on your home's roof due to surrounding buildings, trees, power poles, or antennas. When shading happens, the sun's rays are blocked from reaching the cell and the shaded cells act similar to a clog in a water pipe where the flow is restricted, so essentially any amount of shading can have a huge negative effect on solar panel output.
Roof orientation and size.

Because roofs come in all shapes, sizes, and pitches, you may need to get a bit creative when it comes to installing a solar panel system as panels may need to be fit around dormers, skylights, and chimneys. Solar panels should ideally face south for most states but with today's innovations, you can reap the sun's benefits from just about any orientation. EnergySage states that New Jersey, New York, and Massachusetts are among the top states for solar installations in the country. The pitch of your roof also impacts the sun's position on your roof and therefore in turn affects potential electricity production.
Rebates and incentives

. According to the Internal Revenue Service, the residential energy efficient property credit, which applies to specific solar electricity, water heaters, roofing, and/or tiles, can offer a rebate of up to 26% on the installation costs. Be sure to upload all of your important receipts to the easy-to-use DomiDocs homeowner management platform where they'll be securely stored and accessible 24/7. 

Solar company hype.

Be sure you've done your homework and understand the facts and figures as presented to you by a potential solar panel company. Know that their ultimate sales pitch goal is to have you sign a

power purchase agreement

or a

photovoltaics third-party-owned

lease. Even if they're offering a $0-down loan, your monthly savings will only be 10 to 30% of your electricity on average so the additional cost of having a loan may make your solar project unfeasible. The National Renewable Energy Laboratory of the US Department of Energy states that obtaining 3 or more quotes from prospective solar companies can net a savings of $5,000 to $10,000 on installation. They also noted that larger solar companies tend to charge between $2,000 and $5,000 over that of smaller solar companies so be sure to shop around to get the best price.
Pros & Cons of a Solar Panel System
As with any home renovation project, you'll need to weigh out the pros and cons of installing a solar panel system in your home. Here are some further considerations:
Pros of a Solar Panel System

Cons of a Solar Panel System

once installed, solar systems are generally low maintenance and don't require a lot of upkeep or additional cost

the upfront cost of installing a solar panel system is expensive

you may be eligible for tax rebates/credits for installation cost

beware of sales pitches by any solar company, ask questions, and be sure to get everything you've agreed to in writing as it'll become a legally binding contract

the cost of your electricity bill will decrease

if you choose to finance your solar panel system installation through a government

property-assessed clean energy

(PACE) loan, there will be a

lien

placed on your property until the amount is paid off in full

the value of your home may increase by as much as $15,000 according to a study by the Lawrence Berkeley National Laboratory

if you have a large loan for solar panels, this can affect your ability to renew your mortgage at an affordable rate as the loan needs to be factored in

some mortgage lenders require that a solar system can't be the only source of power on the property

 

if you're buying an existing property with solar panels, ensure they're included as part of the sale price
As a homeowner, installing a solar panel system is a way of taking care of your family because if you can save money on electricity, then you can spend it elsewhere. The same goes for keeping your family safe from property fraud as it's alarmingly becoming more prevalent across America according to the FBI. DomiDocs HomeLock™ is the most advanced proactive digital property monitoring available on the market. You can protect your family while reaping all the benefits of our DomiDocs Homeowner Management Platform including document storage and organization, a maintenance calendar with handy reminders, service provider management, and home value tracking. 
Author – Connie Motz