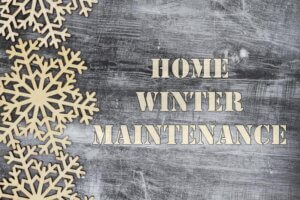 There's something restorative about starting a new year, don't you think? Besides a plethora of fresh hopes, dreams, and resolutions for the year to come, it's also the time to give your home a little extra attention and love. Let's take a look at January home maintenance tips to keep you on track for whatever comes our way in 2021.
Get a Head Start on Spring Cleaning
If you'd rather stay out of the cold, January is the perfect time to start cleaning and organizing your closets. While this may sound daunting, experts agree that the best way to clean a closet is by emptying it completely and starting from there, eek! But a bare closet gives you a chance to make sure all of the hardware is working properly, and the opportunity to consider adding additional lighting, shelves, hanging bars, and/or organizational storage such as bins or baskets. After cleaning your closet, a fresh coat of paint can go a long way in making it seem renewed. Go through your pile of clothes and determine what you actually wear versus what you keep hanging around just in case. As per Japanese organizing guru Marie Kondo, donate items that no longer spark joy.
Put Away Your Holiday Decorations
Yep, even though it seems like you just put them up, it's time to once again put away those holiday decorations until next year. You may also consider donating decorations and ornaments you didn't use. If you had a fresh-cut Christmas tree in your home, as nearly 95 million American households do, you'll need to remove the dry tree from your home; never place it against your house, garage, or other structures, as that's a fire hazard. Many non-profit organizations will pick up your old tree, while other communities offer curbside recycling after the holidays.
Tend to Your Kitchen
If you've made a New Year's Resolution to eat healthier, it might be a good idea to place that new juicer prominently on your kitchen counter as a reminder. After purging your closets, you'll be an expert, so take the same approach to clean out your kitchen cabinets and pantry. Help to keep your kitchen air healthy by changing the filter on your range hood. Vacuum your fridge coils to keep it working optimally. If you want a bright start to the year, a quick and inexpensive way to do so, is to switch out a light fixture to give your kitchen a boost.
Revitalize Your Home Office or Kid's Room
It's sometimes the little things that count most when it comes to making a space in your home really liveable. Switch out an old not-so-functional desk for a new version that makes you inspired to work from home. Stock up on batteries for your wireless keyboards and trackpads. For the kids, adding something like a whiteboard wall or a chalkboard can keep them occupied while still offering the opportunity to be creative.
Maintain an Icicle-Free Roof
Now that you've warmed up by cleaning out your closets, it's time to head outside to inspect your gutters and roof for any hazardous ice dams. If you've got seemingly pretty icicles hanging from your roof, you'll need to cautiously remove them as they can cause leaks and damage to your roof, eaves, and /or attic. If you don't feel comfortable in doing so, call in a contractor if the ice dams are severe. Ventilation and inadequate attic insulation – experts recommend at least 12 inches, as well as clogged downspouts, and gutters are frequent causes of ice dams. Be sure to monitor closely if you're experiencing regular winter storms.
Keep Your Water System Clean and Clear
In thinking about water, January is the perfect time to change the filters in your ice maker and water filtration systems. Unclean water filters can lead to slow flow, along with harmful molds. It's also a great idea to clean out your bathroom sink and tub drains to prevent clogs and mildew, which you can do so by removing and cleaning the drain assembly, followed by pouring a solution of 50% water and 50% bleach into the drain accompanied by a hot water rinse. If you've got unused bathrooms, be sure to regularly flush the toilets to help prevent stains and the possibility of frozen pipes.
Prep For Your Safety
Prep for the new year by ensuring you have non-expired fire extinguishers placed in the kitchen, garage, and on each floor of your house. Check your first aid kits to make sure they're well-stocked. Test your smoke, radon gas, and carbon monoxide detectors to ensure they're working properly. If you don't already have a disaster prep plan in place, it's easy to create one by following the steps outlined in Are You Ready? – A Guide to Citizen Preparedness as developed by the Federal Emergency Management Agency (FEMA).
Update Your Emergency Contact List
When was the last time you updated your emergency contact list? In the event of a natural disaster or other unforeseen events, you don't need any added stress by trying to find a simple contact number for a specific contractor or service provider. DomiDocs makes it easy to store your emergency contact list along with notes and receipts from professionals you've used in the past. And in thinking about receipts, this is a great time to start compiling paperwork for the upcoming income tax deadline.
Update Your Home Inventory List
Besides having professional appraisals for items of value within your home, it's important to visually confirm ownership of contents through a collection of videos and photos, as it's generally required when initiating an insurance claim. Simply video your yard and the exterior of the house, followed by a room-by-room walkthrough. This is also the perfect time to update your existing home inventory list as you go along, especially if you've added high-ticket items such as electronics or artwork. Once you're done, it's easy to upload your documents, receipts, photos, and videos in the user-friendly DomiDocs online platform for safekeeping.
Looking for New Year resolution ideas? You may be interested in 10 Eco-Friendly Ways to Reduce Your Carbon Footprint 
Author – Connie Motz