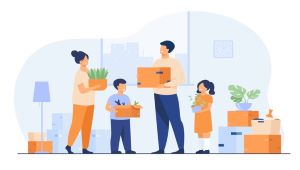 We all know that moving can be stressful but according to a survey by North American Van Lines, it's more frustrating and exasperating than we realized:
64% of participants said moving was 'one of the most stressful things they've ever experienced'

44% said divorce or going through a breakup was easier than moving

43% stated they'd never move again
But rest assured DomiDocs has got your back even when it comes to an irksome task such as moving. We offer our in-depth Moving Guide as part of our New Homeowner Guide, which takes you step-by-step through the entire moving process including how to hire movers, budgeting, potential costs, how to generate some quick cash, and common mistakes when moving. Our handy Moving Checklist covers the basics:
Moving Checklist
8 Weeks Before Your Move
Determine whether to move yourself or hire movers

Budget for your move; the average moving cost in America ranges from $1,500 and upwards, depending on whether you're repositioning short or long distance

Establish a moving date

Give notice to your landlord

Schedule time off work

If it's a work-related move, keep receipts for expenses as they may be tax-deductible
7 Weeks Before Moving
Research and ask the right questions when selecting a moving company; DomiDocs can help you keep track of all potential options with the added ability to take notes on them

Obtain three written in-home estimates before selecting your movers

Establish a moving timeline

Book a moving truck or container rental

Book flights and/or a car shipping service if applicable

Rent a storage unit if necessary
6 Weeks Before Moving
Schedule the movers

Obtain moving supplies

Notify schools of your move

Obtain school, medical, and veterinary records as applicable

Schedule a vet check-up for your pet and discuss recommendations for finding a new vet
5 Weeks Before Moving
48% of survey respondents identified packing as the most stressful part of moving

Decide if you'll be taking larger furniture items with you or if you'll start fresh

Purge and donate items as you pack

Make an inventory list and take photos to document valuable items

Hold a garage sale
4 Weeks Before Moving
Confirm the scheduled moving date with your mover

Consider packing as many items as possible yourself

Label moving boxes and establish an 'open first' box containing health and beauty items, electronics, and changes of clothes

Establish homeowners insurance

Protect your new home from fraud by signing up with DomiDoc's

HomeLock

™

Properly dispose of any hazardous items
3 Weeks Before Moving
Transfer utilities to your new address

File a change of address with the post office

Send a change of address to:

auto insurance

banks

credit card companies

subscriptions

Arrange for child and/or pet care on moving day if applicable
2 Weeks Before Moving
Secure parking for your mover

Change credit card and bank account addresses

Start using up pantry and fridge items

Transfer any prescriptions to your new pharmacy

Schedule an overnight hotel stay if you're moving long-distance
1 Week Before Moving
Reconfirm your scheduled date/time with your mover

Clean your old home/apartment

Run any last-minute errands

Conduct an old home/apartment inspection with the landlord

Pack essentials and kitchenware

Put out the trash and recycling
1 Day Before Moving
Pack up all your essentials and suitcases

Empty your fridge/freezer

Say goodbyes to your neighbors

Gather medications and any valuable items such as passports and birth certificates, keep them on your person during the move

Put together moving day snacks/water bottles

Gather food, toys, leashes, and water for your pets during the move

Fuel up your vehicles

Have cash on hand for tipping the movers; it's not necessarily expected but use five to 10% as a general guideline
Moving Day
Do a final walk around of your old home while double-checking shelves, closets, and drawers to ensure you've retrieved everything

Take an inventory

Give back the keys
During any move, organization and planning are the keys to keeping it stress-free but it's easy to lose the plethora of warranties and manuals you've accumulated over the years. Our DomiDocs user-friendly home management platform has a specific feature for uploading and storing all your receipts and documents online. They're accessible 24/7/365 so you'll never have to wonder where those maintenance guides are again. Protect your new home, and equity, by signing up for HomeLock™ today and receive all of the benefits of the home management platform free!
Author – Connie Motz