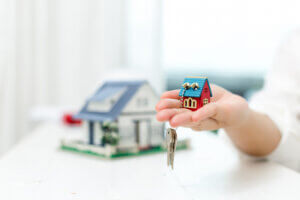 There's something really appealing about downsizing and simplifying life in general, don't you think? But when it comes to chucking it all and moving into a tiny home, there are many things you'll need to consider upfront before curtailing your current house and lifestyle. Let's take a look at the Pros & Cons Of A Tiny Home Lifestyle.
Generally, a tiny home is considered to be a self-contained unit ranging from approximately 250- to 500-square feet in size. It's most likely configured similar to a studio apartment with the living and kitchenette area combined, and there may or may not be a separate bedroom. Tiny homes can be outfitted with extras such as skylights, or even more permanent fixtures such as a pool, or a deck that would provide even more living space overall.
What are the pros of a tiny home lifestyle?
Pricing – it's not necessarily the cost per square foot but more of the fact you may be able to get into the market and own a home outright, possibly without any type of mortgage. A tiny home project in Longwood, Florida, offered 400-square-foot tiny homes with one bedroom and one bath for $85,000. If you're looking at building a tiny home, consult our DomiDocs' list of nationwide contractors to find a trusted professional near you.
Customization – most tiny homes are highly customizable, with upgrade options ranging from uniquely shaped windows to allow in maximum light, to a sleeping loft or a very cool rooftop platform.
Savings – the ability to save money monthly when you live a tiny home lifestyle is more than exciting to most people. No mortgage or small payments means you'll have discretionary money to spend or save as you see fit.
Mobility – if you're looking at a tiny house on wheels, you'll be able to move around the state or country freely, if you so choose.
Reduces your carbon footprint – there will be less usage and less waste overall when you're occupying a tiny home, which ultimately means your energy-efficient space will be quicker and easier to clean. You could also consider installing solar panels to become even more eco-friendly.
Relationships can grow closer – when you're forced to spend time in the same space without being able to retreat elsewhere, you may find that your relationship with a significant other grows to new positive levels when you live a tiny home lifestyle.
What are the cons of a tiny home lifestyle?
Real estate – while your tiny home may be mobile, you'll still have to find a vehicle to tow it with and property to park it on. This may include negotiating rent and utilities, and zoning legalities/building permits depending on your state as some tiny homes are classified as RVs, while others are not.
Lack of storage – unless you've already been living minimally, it could be a challenge to downsize as you'll have to pay to store your extra items elsewhere. Or you could donate them or generate some extra cash by holding a garage sale. Minimal storage also means you may need to cut down on money-saving meal prep as there's nowhere to store an abundance of extra food.
Appliances – will there be air conditioning, a washer/dryer, or workspace when needed? If not, what will your options be? How will you heat your tiny home if you're only hooked up to an electrical system? A wood stove may be viable but you'll need to purchase wood and find a place to store it.
No septic system – you'll need to manually empty your tiny home's composting toilet as recommended by the manufacturer.
Lack of privacy – while a tiny home lifestyle may be perfect for one person, if you're a couple there's really nowhere to escape unless you go outside. 
DomiDocs® commitment to simplifying home management is showcased through functional tools designed to help save you time and money including market value tracking, document organization, and more! HomeLock™ provides an extra layer of protection by providing 24/7/365 monitoring against property fraud, unknown liens, misfilings and more, giving you the peace of mind to just enjoy your home. Visit HomeLock™ today to watch our introduction video, and when you sign up, you'll receive a comprehensive 7-year home history scan and report free of charge.