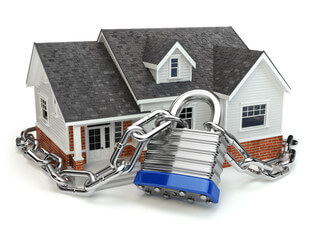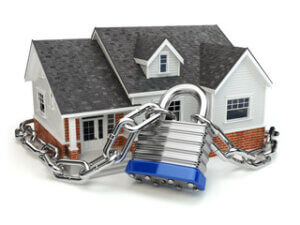 Being a homeowner comes with a lot of responsibility, including keeping your family safe from burglars. Think a household breach won't happen to you? A report by the Federal Bureau of Investigation states there were nearly 7 million property crimes across the country in one year alone. Don't know where to start? DomiDocs has compiled an actionable list of 6 highly effective tips to keep burglars out of your home in which you can start implementing today.
Secure Your Doors & Windows From Burglars​
Keeping your doors and windows locked at all times and adding motion sensors will help make it harder for would-be thieves to enter your home. If you have air conditioning units in your windows, make sure you've installed security brackets that interlock your air conditioning unit to your window sill making them much harder to remove. Laminating your windows with a break-proof film will also help to deter thieves from entering your home easily, and if you live in a high-crime area, you can put bars on your windows. Installing deadbolt locks can force want-to-be burglars into spending more time than they want when trying to gain entry, so they're more likely to look for an easier target.
When You're Away, Keep Burglars at Bay​
If you're going to be away from your home for work or a much-needed vacation, don't tell everyone on your socials you'll be absent! If you do, it's basically like an advertisement telling criminals to come on over because there's no one home. Think about all your online social media friends, or friends of friends, that you don't even really know, any one of them could be connected to a racket looking for vacant homes to ransack. Ask neighbors to keep an eye on your home and use light timers set to come on at random intervals and rooms throughout your home. You can also do the same for TVs so thieves will assume someone is home and move on to another target.
Getting a Dog To Dissuade Burglars​
While adding a pet to your existing family requires so much more thought than simply becoming a safety deterrent, it's proven that a barking dog does scare off many potential thieves as they're looking for unobstructed targets. According to a survey of actual burglars by KGW8 in Oregon, "loud barking dogs, strong heavy doors, a TV being switched on and locked windows," were the top deterrents for burglars when casing a target home. Instead of an actual dog, you could also consider purchasing a door security alarm that produces a very realistic and loud barking sound.
Burglars Hate Outside Security ​
Installing inexpensive motion lights along your home pathways and garage area goes a long way in alerting you and your sometimes noisy neighbors (this is when they come in handy) to any unwanted visitors. Consider putting up a fence around your property's perimeter if zoning allows, and adding a front gate may be enough to ward off a thief who doesn't want any extra annoyances to deal with. And if you have a fence, you can coat it in anti-climb paint to make those slippery burglars even slipperier. If you have an unpaved driveway, consider using gravel or pebbles as it'll create unwanted noise any potential burglar wants to avoid.
Home Security Systems, Smart Locks & Doorbell Cameras​
You can obtain and install individual security items yourself or combine them into a professional and comprehensive home security system that will provide 24/7 protection while integrating many of the above components. Then it's as easy as accessing your smart phone to monitor and control individual elements of the security system.
Take Digital Home Theft Deterrent A Step Further with HomeLock™​