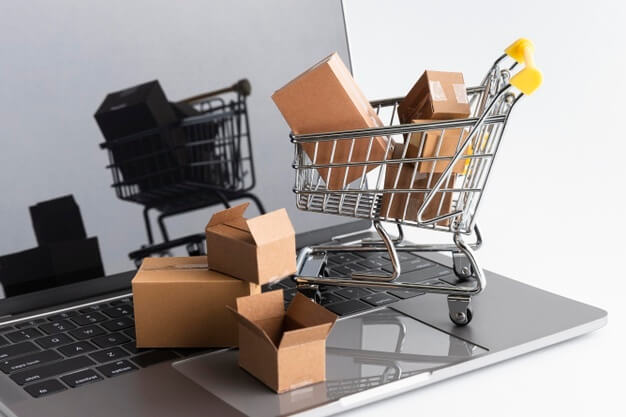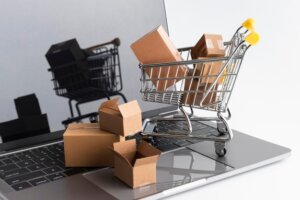 Oh, the joy of the upcoming holidays! It's always exciting to be gathering with family and friends to revel in the festivities. But during this fun and somewhat hectic time, especially during Black Friday and Cyber Monday, this is also the proverbial holiday season for cybercriminals! No one wants to experience FOMO – the fear of missing out – so you're likely to let your guard down, while possibly being sleep deprived to get those amazing deals you seemingly can't live without. But this is exactly when cybercriminals launch their strategic ransomware, phishing, and malware cyberattacks. Protecting yourself from cybercriminals during the holiday season is easier when you follow these tips.
Are you shopping online instead of throwing yourself into the middle of those potentially aggressive crowds at brick-and-mortar stores? You're not alone. According to SpendMeNot.com, nearly half of Black Friday sales were conducted online, with billions of shoppers buying through their mobile phones, making it a tempting lucrative market for cybercriminals. But online shopping comes with the danger of malicious mobile apps. If you decide to download an app to start searching for discount codes or to track prices, you could be putting yourself at risk. Here are some recent stats according to SonicWall Capture Labs about Black Friday and Cyber Monday:
-phishing attacks have doubled
-ransomware attacks and malware attacks combined are skyrocketing
-hundreds of millions malware attacks
One notable app cited Amazon shopping hacks, which by all means sounded like a great way to get the best deals on Amazon before anyone else. But the app mined private user info including credit card details and contact information, so it's best to forgo any apps you haven't previously used successfully and without incident.
Know You Are Being Targeted.
Protecting yourself from cybercriminals during the holiday season needs to be top-of-mind awareness because these fraudsters are targeting you. How? Through banner and/or pop-up ads, fake emails with attachments, and social media posts linking you to scrupulous but seemingly normal websites. Just knowing that this can occur, will hopefully give you pause before clicking that ad. If something pops up that interests you, take note of the details and then go to the official retailer site without clicking on anything from a potentially malicious ad. Don't be lured in – if there's a tempting deal that seems too good to be true, especially one that offers something free or there's an urgent call for action, beware and do your due diligence to vet the website before making any purchases, including looking for the HTTPS padlock icon to ensure any transaction you're about to make will be secure.
Protecting yourself from cybercriminals during the holiday season can be as easy as paying by credit card as they come with federally mandated consumer protection policies. If you receive a defective product or have a dispute you can't resolve on your own, you can then take the dispute to your credit card company who will act on your behalf. Plus, there's a zero liability policy for unauthorized transactions, and many credit card companies use AI to monitor your card for any suspicious activity, to which you'll then be alerted immediately by text or method of your choice. A bonus of using your credit card is an extended warranty which typically adds up to one year of extra coverage for eligible purchases.
And Better Yet? Use a Virtual Credit Card.
What's a virtual credit card? It's essentially a temporary credit card number supplied by your credit card number that's used to hide your actual card number. You can use it as you normally would when shopping online, but the retailers never see your true credit card number so in the event the website is somehow fraudulent, your credit card number is still safe. How do you get a virtual credit card number? You can obtain one through your credit card website or call your customer service line for more information. You may also be able to get a virtual number for your debit card, depending on your bank.
Don't Use Your Debit Card.
There are probably very few scenarios where many of us don't use our debit cards, but protecting yourself from cybercriminals during the holiday season can be as easy as not using it. Why? Because funds are taken immediately from your bank account, and if any fraudulent activity occurs and your card is compromised, it could take time before the issue is resolved and in the meantime, you'll be out that cash. And if you decide to pay with cash, just remember you won't have the consumer protection as offered by using a credit card, especially when it comes to big-ticket items that could still cost a lot even during holiday sales.
GooglePay and ApplePay Are Both Great Options.
Once you've got your digital wallet set up on your phone, ApplePay and GooglePay will then generate random account numbers, also known as tokens, that hide your actual credit card number when making purchases. You can use these highly-rated services both online and in-store.
Monitor Your Bank Account Statements.
We all just want to enjoy the holidays, and truly, many of us may never check our bank account statements regularly as it is, unless we find there's something really out of the ordinary. Protecting yourself from cybercriminals during the holiday season includes being aware of suspicious transactions on your debit and/or credit card, and regularly checking statements to ensure nothing nefarious is going on. And it doesn't necessarily mean some big charge going through on your account, it could be a smaller amount that you may not even think twice about, but this small amount could signal that a criminal who has stolen your credit card info and made a duplicate card is testing your number to see if it works. According to Somerville Bank, "If it works, they then make larger purchases to get items they can sell or keep for themselves. Some of these criminals have learned that banks and other card issuers don't investigate unreported charges if they are under $50 so they make a lot of smaller charges on items they can sell quickly." The Federal Trade Commission noted a set of criminals made off with nearly $10 million by using debit and credit cards by charging $10 or less per transaction.
Secure Your Home With HomeLock™
Protecting yourself from cybercriminals during the holiday season should also include protecting your house from home title and property fraud. Here are the frightening facts:
34% of homeowners have 100% equity in their home, making them prime targets
There was a 6,134% increase in property fraud in recent years
Title and homeowner insurance doesn't fully protect you
Here's a homeowner warning from our DomiDocs Founder & CEO, William McKenna, entitled Dramatic Increase in Property Fraud of All Kinds. Not Just Title & Deed. "We encourage you to communicate with our fraud prevention team via chat or phone to answer any questions. Our HomeLock™ product is like no other on the market and we recommend that you compare functionality, coverages, resolution, and pricing with other systems. We are extremely confident that you will make an informed decision to become a customer of our company," said McKenna. Additionally, HomeLock™ provides alerts and protection for county-level clerical errors, missed payments, and unpaid bills, so be sure to sign up for HomeLock™ today!
For more information on cybercrime prevention during the holidays, read:
Cyber Security Awareness: Top Cyber Safety Tips
Deter Porch Pirates with These Holiday Crime Prevention Tips
How to Stay Safe Online During the Holidays
Author – Connie Motz