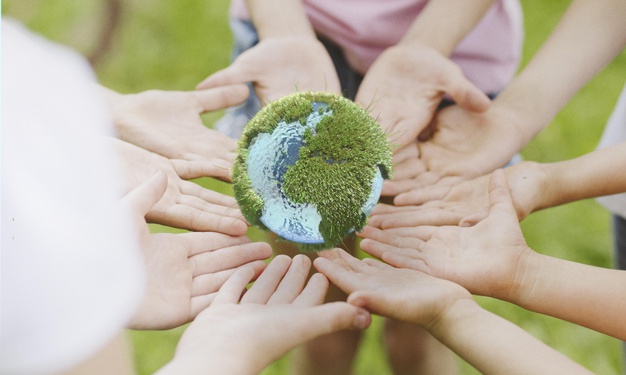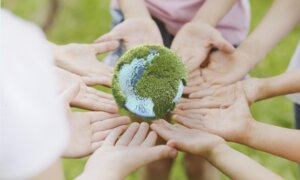 Like the Chinese philosopher Lao Tzu said, "Give a man a fish and you feed him for a day. Teach him how to fish and you feed him for a lifetime." When it comes to teaching your kids about the environment and thinking green, it's no different as you'll be creating life-long skills they can continue to use as they evolve into eco-conscious adults. Here are some actionable tips for teaching kids to think green.
Why Do We Need to Protect the Environment?
Everything we do as humans on our planet should be designed to help protect our air, land, and water. But according to the World Bank Group, "The world generates 2.01 billion tons of municipal solid waste annually, with at least 33 percent of that—extremely conservatively—not managed in an environmentally safe manner." This means it's our responsibility as individuals to make changes beyond the basics of reducing waste and kicking out our throwaway society mentality. Here are some great suggestions for helping kids to get on the green path, depending on their age:
Reduce:
don't let the water run when you're brushing your teeth 

encourage teens to reduce their time in the shower to conserve water

learn to routinely put computers and laptops to sleep instead of letting the screensaver run

turning off the lights and electronics when leaving a room; if your kids are old enough, they can help replace old energy-sucking light bulbs with efficient LED versions that use less energy and can last up to 13 years without being changed

encourage kids to only open the fridge door when they know what they want and not to stand there idly with the door open

unplug any chargers when they're not in use

walk, skateboard, or ride a bike to a destination, or have a public transit day for the entire family
Reuse:
discourage your kids from printing out everything from their computer by only printing what's absolutely necessary; already printed paper can be reused on the opposite side for drawing

buy reusable batteries for your kids' electronics and show them how to use them

collect rainwater in a bucket and use it to water your garden later

take reusable cloth bags when you go to the grocery store

teach your kids it's okay to pass along books, clothes that no longer fit, or toys they no longer play with; you could even organize a fun swap meet between kids or take your kids to the donation drop off center so they can see how their generosity can help others

use reusable travel bottles filled with tap water from home and fountains when you're out and about 
Recycle:
have kids make drawings or a list of what can or can't be recycled

take full advantage of curbside recycling while cleaning and sorting items together as a family

take your kids to a recycling depot so they can see what's being turned into new cans and bottles
Kids Follow By Example
Setting a positive example as a parent will go a long way when it comes to teaching your kids about thinking green as it's all about them following everything you do in everyday life. If you've been out shopping and purchased drinks in plastic bottles, you'll teach your kids a lot about recycling if you hold onto those bottles until you can find a recycling bin. If you're at a farmer's market, engage with the vendors by asking questions about their growing practices, farm location, etc. This simple conversation will help kids to understand that knowing where and how their food is produced is important. Teach your kids there are advantages to using green cleaning products, homemade or store-bought, rather than using possibly hazardous commercial cleaning solutions that aren't great for the environment. Volunteer your entire family when your neighborhood park is holding a clean-up day. 
Let Nature Be Inspiring
There's no benefit for kids to be cooped up inside all day watching TV or playing video games. When you explore nature through walking, hiking, camping, fishing, and/or photography, you're encouraging your kids to think differently about their surroundings. When they come to truly enjoy and appreciate all that Mother Nature has to offer, it's more likely they'll be interested in helping the environment and wildlife for years to come. Inspire your kids by:
having a picnic or a BBQ in a nearby park

setting up bird feeders and houses in your yard, and getting your kids to help restock the seeds and clean up any debris

gardening in your backyard, planting a tree, or growing flowers for pollinators; kids can then pick vegetables they've helped grow for their lunches and snacks

participating in a community garden if you don't have space for your own

plan a family road trip or vacation to a beach or a national park

experiencing nature during various types of weather including rainy days which shows your kids that nature always has something to offer for them
Attend a Conservation Program
Many local/state parks and wildlife refuges offer conservation programs and activities to help teach kids about the importance of conservation. Or you could contact your community center or your child's school to find out about conservation workshops available near you. There are also online websites like the National Wildlife Federation and Conservation Kids. The National Recreation and Park Association in Ashburn, VA, suggests these fun age-appropriate afternoon projects to do with kids:
build a compost bin

create a pollinator habitat for insects

construct a miniature watershed to demonstrate water as a renewable resource

go on a litter seeking/collecting hike

go wildlife viewing complete with binoculars, a field guide, and a camera
Offering tips for teaching kids to think green is just the tip of the iceberg. The DomiDocs-GRN initiative is committed to minimizing environmental Impacts and maximizing value, while providing homeowner navigation towards eco-friendly home upgrades that can reduce energy costs and increase their homes' value.
Our free digital home management platform offers tools to help save you time and money, keep your important household documents organized, and increase the value of your home. You can also protect your family with HomeLock™, the leading home title protection and fraud monitoring system available to homeowners. HomeLock™ goes a step further by also alerting you to any unpaid bills, county clerical errors, or even missed payments. Learn more by viewing our HomeLock™ video, then sign up today!
For more information, read:
10 Eco-Friendly Ways to Reduce Your Carbon Footprint
13 Actionable Energy Tips for Your Home
Benefits of Household Recycling
Eco-Friendly Building Materials
Author – Connie Motz