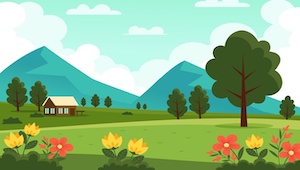 Experts agree that the warmer spring weather following a dreary winter season makes antsy buyers active and ready to move into a new home. Spring is Mother Nature's way of signaling change is on the way and this uplifting time of year can also bring plenty of buyers to your open house. DomiDocs is here to help you get a head start in making the big life decision of selling your home as easily as possible. Here are 5 benefits of selling your house in the spring.
Maximize Your Curb Appeal
Springtime provides a natural boost of color and with a yard full of blooming flowers, lush green grass, and budding trees, so why wouldn't a potential buyer fall in love with your home? Add onto this the longer days from Daylight Saving Time and buyers have even more time for home shopping and setting up their finances. Picturesque blue skies coupled with revitalized springtime yards make for tantalizing real estate photos to help market your home, plus real estate marketplace Zillow states you can increase your property's value by almost 3% if you paint your exterior front door black.
Buyers Want to Settle In Before Summer
A springtime home purchase offers convenient timing as young families with children will no doubt want to move into their new home well before the school year starts in the fall. This will give them bonding time to enjoy the summer and to get used to their new neighborhood before throwing school back into the mix. This also means you'll find more qualified buyers looking to buy homes during the spring, especially with today's record-low mortgage rates.
Real Estate Market Metrics
While spring signals a home-buying frenzy in many parts across the country, it's important to note that not all locales experience this real estate phenomenon as seasonality trends are opposite in snowbird cities such as Phoenix or Miami. With our DomiDocs TrueValueIndex®, you'll always know the current market value of your home from day-to-day, but it's also important to consult a local real estate expert who can advise you on how to competitively price your home correctly from the beginning to help ensure a quick sale the first time around. A study by the real estate brokerage firm Redfin states listing your home on a Thursday is more likely to result in a sale above list price as prospective buyers can plan for their weekend house shopping, virtual or otherwise. Experts at Zillow also found that homes listed between May 1 and May 15 sell for a $1,500 premium and nine days faster than homes listed on other dates.
Prep Your Home for a Spring Sale
During the ramped-up springtime surge in home buying, you can prep your home for sale by ensuring everything in your home is in the best shape possible. This means removing clutter, doing repairs, painting, removing carpets, updating the kitchen and bathroom, replacing old appliances, and even staging your home, in the end, to make it look as inviting as possible.
Are You Selling Then Buying Again?
According to the financial website Investopedia, "If you don't immediately need the proceeds from selling your home to go into the purchase of your next, then buying in the winter, setting up a short-term living arrangement – whether that be leasing, temporarily moving in with others or something else – and then selling in the spring, is a great way to maximize the trade between what you're selling and what you're buying."
Once you've got your spring cleaning out of the way and have eager buyers at your door, you can easily access the vital household documentation you've stored securely on the DomiDocs home management platform. This means the selling process becomes much easier and organized when you can simply forward information to your real estate broker or insurance company with the touch of a button. You'll be on your way to a near digital homeownership handover in no time without having to look through mounds of physical paperwork trying to find a single seemingly lost piece of paper.
Take back your homeownership control with DomiDocs – Learn more about our newest product HomeLock to protect your home from fraud and criminal activity. Sign up today! 
Author – Connie Motz