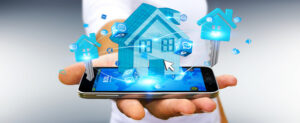 Federal statistics from 2018 ranked real estate as the largest industry in the country while employing over 2 million people and contributing more than $2.7 trillion to the American economy. So it's no wonder the real estate industry is keen when it comes to adopting new technology as it becomes ingrained in our everyday personal and work lives. Let's see how technology is transforming our home buying and selling experiences!
Smart Home Technology
It's a given that today's buyers want tech-savvy homes. According to a 2017 Concept Community survey, by incorporating smart home technology in your home, you can increase the return on investment (ROI) by 11%. Besides convenient smart devices such as Google Home or Amazon Alexa, consider installing additional digital home integration devices like: 
a home security system including smart locks and doorbells

a smart thermostat to control airflow and temperature, which can provide savings of up to 30%

an entertainment system including smart speakers and TVs

hands-free faucets to reduce the spread of germs and decrease water usage

smart lighting

smart-grid appliances that can independently determine the best time to run based on using the least energy
Environmentally Friendly Contractors and Construction
During a new home construction process, many contractors are making the conscious choice to use eco-friendly building materials ranging from building blocks and glass countertops, to insulation, porous pavement, and recycled steel. It's a win-win for you and the environment as using recycled and/or biodegradable materials helps to reduce the carbon footprint in the construction industry. If you're not sure who to call to find a home builder or contractor near you, once you've signed up for our free DomiDocs home management platform, you can easily consult our list of trusted nationwide professionals.
Cloud-Based Integration
While many of us routinely use cloud applications for storing files and photos, cloud-based integration takes it a step further. According to IBM, cloud integration means "bringing multiple cloud environments together — either in a hybrid deployment or as multiple public clouds — so that they can operate as a single, cohesive IT infrastructure." For prospective home buyers, this means you may be able to take advantage of remote lending and closing, instead of having to turn up at a brick-and-mortar office in-person to review and sign any necessary paperwork. 
AI Technology
Real estate brokers can more accurately estimate home prices through the use of artificial intelligence (AI) technology by taking into account such things as nearby schools and shopping, along with neighborhood noise levels and crime statistics. DomiDocs provides current market value tracking and AI-generated recommendations based on your personalized data to help build the value of your home. You can instantly gain access to our technology and organizational tools that will enable you to make informed homeowner decisions by simply signing up today.
Virtual Reality Home Tours
Potential buyers can use a 360 degree 3D virtual reality home tour experience to view a property through an online real estate marketplace at any time right from the comfort of your own home or wherever you may be. This type of walkthrough can bring a home to life over viewing an array of photos and videos that can be hard to relate together. If you miss something or want to see a specific room again, you can simply use VR to go back and do so, unlike once you've driven away from a home in person and think, darn, we forgot to look at the light fixture in the kitchen. Additional benefits of using VR for buyers include being able to save time as you don't have to try and schedule or re-schedule a property tour, and you can take your time during a VR tour as there's no rush or pressure to finish up the walkthrough. In the future, it's suggested that VR will be able to include senses of touch and smells — imagine detecting freshly baked cookies when you're touring a kitchen through a VR immersion! 
The world of technology is always exciting and it's fun to see what its future in the real estate industry may be besides making the transaction process even more streamlined and convenient for home buyers and sellers. And once you've got the home of your dreams, be sure to protect it from home title theft with HomeLock™, the most advanced digital property monitoring available. But HomeLock™ doesn't just offer fraud protection, it also can alert you to anything that can go wrong while being a homeowner such as an unpaid bill, a missed payment, or even a clerical error at your local county office. Be sure to sign up for HomeLock™ today!
For more information, read:
9 Actionable Ways to Increase the Value of Your Home
10 Eco-Friendly Ways to Reduce Your Carbon Footprint
Author – Connie Motz