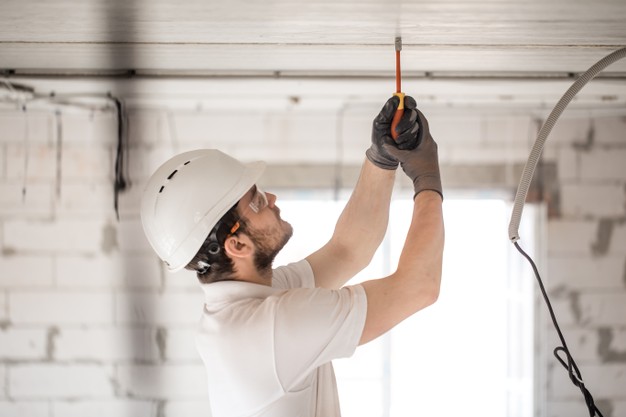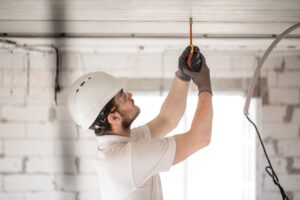 When you're looking to buy a new home or renovate your existing one, the ceilings in a house can make a huge difference in respect to its spaciousness and even for its potential resale value as having custom ceilings may help your home be more desirable when it comes time to sell. Of course, ceiling choices may also be part of the overall architectural style of a home so make sure they're something you can love when purchasing a home as they may be hard to change. Let's take a look at the main types of specialty ceilings commonly found in today's homes including the pros and cons of each, along with their associated costs according to HomeAdvisor.
Sloped Ceilings
A sloped ceiling generally follows the roofline and is found in houses with pitched roofs. It's a cozy space at the attic level where you can create an inviting getaway for reading and relaxation. Many times sloped ceilings also feature exposed beams. 
Cons: they're not very energy efficient in a large space
Cost: depending on the pitch of the roof, expect about $50 per square foot on average
Exposed Beam Ceilings
Popular in the industrial style of decorating, an exposed-beam ceiling is open and unfinished, which showcases the beams, ductwork, and pipes for all to see. An exposed-beam ceiling can be left natural but many times it's whitewashed to blend seamlessly with the rest of the room. 
Cons: lack of insulation
Cost: anywhere from $7 to $20 per square foot
Beamed Ceilings
In contrast with exposed-beam ceilings where the guts of a home are on display, a beamed ceiling only exposes the raw timber beams giving the entire room a warm, rustic vibe. If you'd like a beamed ceiling but don't have one, consider installing lightweight decorative beams made of polyurethane or fiberglass, or going eco-friendly by reusing salvaged-wood beams.
Cons: don't have as much insulation as with a finished ceiling
Cost: depending upon materials, expect to pay from $7 to $20 per square foot
Suspended or Drop Ceilings
Intended to hide sprinkler systems, plumbing, and ductwork, suspended ceilings are most commonly found in office spaces but also make appearances in homes, especially in basements where you can cover up an array of mechanical things you'd rather not be seeing regularly. It consists of a hanging metal grid with easy-to-remove ceiling tiles placed into each section.
Cons: they reduce overall ceiling height and so a room may feel cramped
Cost: anywhere from $5 to $28 per square foot
Vaulted Ceilings
Naturally drawing your attention upward, a vaulted ceiling offers a spacious and often dramatic feel to a room. It can also make a room feel much larger than it actually is while showcasing natural light, which is especially true if the room also features large windows. Vaulted ceilings are popular ways of making a grand foyer or living area. There are generally five types of vaulted ceilings:
barrel vault: a single curved arch rising from the corners underneath the ceiling rafters

cathedral ceiling: features a high center point with equal sloping sides

cloister vault: concave arches rise from the middle of each wall

domed vault: features a circular or central arch

groin vault: consists of two intersecting barrel vaults rising from the room corners
Cons: expensive, lack of insulation
Cost: a basic vaulted ceiling runs about $50 to $75 per square foot, while a cathedral ceiling runs anywhere from $120 to $175 per square foot
Traditional Flat Ceilings
A conventional ceiling is the simplest and most common type of ceiling found in homes. Why? Because it's cost-effective to install the drywall and it's easy to paint. Most conventional ceilings are nine feet tall but many now consist of airy 10 to 13-foot options creating a much more open feel to any room. However, if you're buying a home with one of those outdated popcorn ceilings, consider if you can live with it as is or if you'll need to remove it as it's not likely future buyers will want to deal with it. If it's an older home, the popcorn structure itself may contain toxins including asbestos, which needs to be removed professionally. Not sure who to call? Consult our DomiDocs list of trusted nationwide contractors.
Cons: watch out for ceilings that are too low and create a claustrophobic feeling
Cost: $2 to $20 per square foot
Tray Ceilings
Consisting of a single raised central inset, a tray ceiling creates a sense of architectural interest and height at the same time. They can be found in home living areas, libraries, and trendy home theaters. 
Cons: can reduce overall headroom making a smaller room feel even smaller
Cost: ranges from $3 to $5 per square foot
Coffered Ceilings
With roots originating in Greece, a striking coffered ceiling consists of multiple three-dimensional fiberboard or wood panels that add height, a sense of formality, and drama to any room. This can be taken even further by using contrasting paint colors on the trim and recessed panels.
Cons: can be time-consuming to have installed
Cost: averages $25 to $30 range per square foot
Coved Ceilings
Instead of featuring sharp corners, a coved ceiling with rounded edges creates more intimacy and flow in a room. They're often coupled with tray ceilings to create an even more stunning effect. 
Cons: is detailed and laborious to install
Cost: about $25 per square foot depending upon materials
Other Specialty Ceiling Types
If you're not liking the above options, you can also choose from tongue and groove boards, laminate ceilings, or an eye-catching stamped metal ceiling featuring finishes such as brass or copper.
Cons: hard to install evenly over an existing ceiling
Cost: ranges with materials chosen
Whatever you decide to do or not do with the existing ceilings in your home, it's important to know when it's time to call in a professional as they're attuned to any issues regarding structural loads, along with taking into account any plumbing, wiring, and HVAC systems already in place. However, don't forget the cost of demoing an existing ceiling on top of the new ceiling cost, which can range anywhere from 13 cents to $5.50 per square foot to remove.
Keep track of your home renovations and contractor receipts with our easy-to-use DomiDocs digital home management platform that's designed to help save you money and time so you can get back to simply enjoying life as a homeowner. You can also provide your family with peace of mind by protecting them from property and mortgage fraud, one of the fastest-growing crimes in America according to the FBI, with DomiDocs HomeLock™, the most advanced property monitoring available on today's marketplace. Don't make your family vulnerable to a mortgage scam or theft, choose 24/7/365 home title fraud protection with HomeLock™ to keep your home safe from potential criminals! And remember that HomeLock™ doesn't just protect you from fraud, it also covers anything that can go wrong like an unpaid bill, a missed payment, or a county-level clerical error.
For more information, read:
Author – Connie Motz