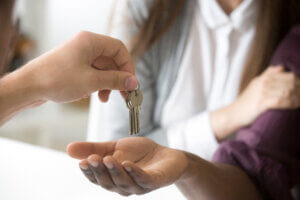 According to a report by the National Association of Realtors (NAR), first time homeowners consistently represent the largest share of home buyers over the past seven years. But feeling confident during the home buying process may not go hand in hand. DomiDocs and industry experts know the key to home buying success is education and empowerment. Check out these 6 Crucial Tactics for first-time Homebuyers.
Minimize Your Debt
As prospective first-time home buyers, pre-existing debt could be one of the biggest challenges you'll be facing. This includes the likes of student loans, credit cards, and loans for vehicles. The best advice here is to develop and stick to a budget to help pay down these debts as quickly and efficiently as possible. Consult your lender to see if you may benefit from consolidating several debts into one manageable loan payment you can then pay down faster.
Maximize Your Down Payment
How much will you require for a down payment? As much money as you can possibly pull together. Down payment requirements can range from 0-20% depending on your qualifications but ultimately the more you can roll into a solid down payment means the less you'll be paying on interest. Research by the real estate brokerage firm Redfin states 69% of homebuyers save money for their down payment directly through their paychecks, while others took on second jobs, pulled money from their retirement fund, or dabbled in the cryptocurrency investment market. If you apply for a conventional loan and have less than 20% of the purchase price to provide as a down payment, you'll be required to pay private mortgage insurance to protect the lender in case you're not able to make payments.
You'll Also Need Money for These Expenses
According to Redfin Chief Economist Daryl Fairweather, "Underestimating the hidden costs associated with buying and owning a home, including the ongoing responsibilities of maintaining it, is the No. 1 new homeowner frustration." Fairweather suggests doing a check of your full finances as "A lot of hidden fees come with owning a home that you might not consider immediately," including property taxes, homeowner insurance, and closing costs ranging from 2 to 5% of the home price. You'll also potentially need money for moving, utility down payments, new furnishings, and/or appliances.
Get Your Financial Ducks in a Row
Gather all of your financial documents, which are so easy to organize and securely store with DomiDocs, including tax returns, bank statements, and recent income/employment verification, plus a list of liabilities and assets. Your loan options are going to be based on your credit rating so it's imperative to make sure it's the best it can be before you begin your mortgage-shopping journey. Check your credit score to ensure there aren't any discrepancies you'll need to have cleared up before applying for a mortgage.
Get Lender Pre-Approval
When you're pre-approved by a lender, they'll provide you with a letter that you can submit along with your offer to purchase a home. This letter will let the seller know that you are a determined buyer and they can treat your offer with serious consideration. It's important to understand that a pre-approval from your lender is not a formal approval.  The pre-approval means that as long as your lender can validate the information you have provided as well as other information they may request and if the home you seek to purchase appraises for an amount that supports the loan request, you will be able to obtain a mortgage to buy it.
Secure A Great Real Estate Agent
It's important to seek out a real estate agent who's knowledgeable and willing to work with you to find a home within your budget that will also meet or surpass your housing needs. Experts say that the number one reason first-time home buyers missed out on the home of their dreams was due to their initial offer not being high enough, something a real estate agent can easily advise on. They also noted that 40% of buyers "Were very comfortable in negotiating the purchase price of the property with their real estate agent," which means 60% were not, so be ready to step out of your comfort zone when it comes to bargaining for your dream home
Purchasing a home, the single largest asset most people will ever own, requires preparation and planning. While the array of decisions to be made along the way can be somewhat daunting, DomiDocs has prepared our step-by-step New Homeowners Guide to get you through the home buying process as efficiently as possible. DomiDocs also offers a comprehensive cloud-based platform so you can digitally manage your home and property with ease. We provide organization, education, and technology to save you time, money, and increase your new home's value – all designed to keep you ahead of the curve.
Author – Connie Motz