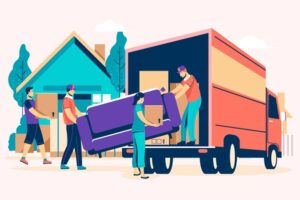 Even the thought of moving can bring about anxiety for many people. According to a North American Van Lines report, 64% of respondents identified moving as one of the most stressful things they've experienced in life, while 44% said getting a divorce or going through a breakup was easier than moving!
Our state-of-the-art DomiDocs homeowner management platform provides a comprehensive New Homeowner Guide which includes our Moving Guide and a handy Moving Checklist. Let's take a look at 6 Relocating Tips You Can't Afford to Miss!
Establish a Moving Budget
Before you consider relocating to another city, you'll need to figure out what you can afford and all the potential costs involved with moving. Setting up a moving budget is the best way to know where you stand and will help to keep you on track by sticking to it. Besides setting aside cash for extra packing materials and/or tipping the movers at the end of the day, you'll need to include expenses such as:
the cost of flights/fuel/hotels/meals when scouting out your new city of choice 

the cost of moving including furniture and vehicles

lease termination fees

penalties for paying off your mortgage early

real estate commission 

a downpayment and closing costs for your new home

living expenses if you don't already have a new job set up

security deposits for utilities

potential HOA/POA fees depending on the home you choose

cost of healthcare

upgrades to your new home

furnishings for your new residence
How much does moving cost? The American Moving and Storage Association says the average cost of an out-of-state move is approximately $4,300, while the cost of an in-state move is $2,300. Be sure to check as some employers offer relocation assistance which could include packing services, moving companies, and/or temporary housing.
How Much Will Your City of Choice Cost You?
Don't mistakenly assume a city of the same population size in another state will have the same cost of living. You'll need to do your research to determine rates for property, city, state and town taxes, especially if you're already living in a state with no income tax as this can hit your paycheck hard. Or just the opposite – it can be a huge relief as you'll have more money to spend if you're moving to one of these states without income tax including:
Alaska

Florida

Nevada

New Hampshire

South Dakota

Tennessee

Texas

Washington

Wyoming
According to NerdWallet's cost-of-living calculator if you have a current pre-tax household income of $50,000, here are some US city comparisons:
| | | | |
| --- | --- | --- | --- |
| Current City  | Relocation City | Cost of Living  | Increase/Decrease |
| Miami, FL (estimated population of 471,525 in 2020 | Long Beach, CA, (population 454,681) | $64,460 | +29% |
| San Antonio, TX (population 1,567,118 | Philadelphia, PA (population 1,578,487) | $61,117 | +22% |
| Spokane, WA (population 222,050) | Baton Rouge, LA (population 219,052) | $49,403 | -1% |
| Indianapolis, IN (population 877,903) | San Francisco, CA (population 866,606) | $109,344 | +119% |
Research Your New City
Choosing your new city is as important as the home you decided to live in. Scoping the city out in detail is the key to a happy move and if you're able to, actually visiting it is the best option as you'll get to see everything first hand, good or bad. Things you'll need to note include:
accessibility to amenities you consider important such as shopping and recreation

commuting time to work

proximity to public transportation

schools
Read our article entitled House Hunting for a Great Neighborhood which offers a practical decision matrix to guide your choice of cities while removing the emotional factor that can be easily misconstrued. In 2019, US News reported Myrtle Beach, SC, as well as Fort Myers, Naples, Ocala, and Sarasota, FL, are among the top fastest-growing cities across America.
Know the Laws in Your New City
This is particularly relevant if you're a business owner or plan to be as you'll need to be aware of the local laws concerning your business. Do your research and also check out things like driving laws for handheld device usage as you don't want to get an expensive 'welcome to the neighborhood' ticket upon arrival at your new city. Visit your potential city's website to see what they say about specific neighborhoods including crime rates, annual events, local tips, and more. 
Don't Rush Into Home Buying
If it's not in the cards when you initially move, renting on a month-to-month basis may be a great solution before seeking out your forever home and that's okay. A report by Bankrate.com stated 8% of homebuyers surveyed felt they bought in the wrong location so this will give you time to explore neighborhoods in the area to decide which one suits you best. Establishing a five-year plan will help to ensure you'll be accomplishing your life and career goals by choosing a specific city.
Get Out and Explore Your New Neighborhood
Moving can also be one of the most exciting things you'll do in life as it's a chance to explore your new city, meet neighbors, volunteer, and/or ask locals about recommendations for hot spots. The more you explore your new neighborhood, the less likely you'll feel like a tourist instead of a resident.
Relocating to a new city is the perfect time to downsize some of your personal possessions and you can generate some quick cash before moving by holding a garage sale. Read 9 Actionable Ways to Increase the Value of Your Home and 6 Crucial Tactics for First-Time Homebuyers for great tips on selling your old home and buying a new one. 
DomiDocs is dedicated to making your life as a homeowner the best it can be by offering an array of functional tools and tips designed to save you money and time. Our user-friendly digital home management platform offers a list of trusted nationwide contractors where you can choose your movers and organize your documents so they're easily accessible 24/7/365. Be sure to watch how HomeLock™ can protect your new home from fraud, clerical errors, missed payments, and unpaid bills. DomiDocs has your back!
Author – Connie Motz