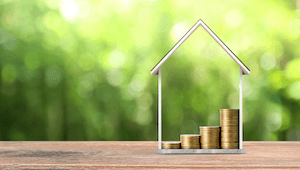 Even though it's something you may not want to consider, there may come a time when you'll want to sell your home. In the meantime, there are steps you can take to ensure your home retains and even increases its overall value.
Easy Cosmetic Fixes
Besides consulting the extensive DomiDocs list of 50+ Things That Make Your Home Outdated,  the basics are this: nothing is less appealing than tired, has-been decor that buyers will immediately see a need to replace. Think streamlined, clean, and un-trendy. Replace any dated wallpaper with a fresh coat of paint; white and off-white neutral paint colors are the most appealing to buyers. You can also change out aged gold color hardware and fixtures such as doorknobs with sleeker satin nickel finish options.
Sometimes it's not about replacing something such as heavy curtains, it could be as easy as removing them to let the natural light in or getting rid of access furniture that makes a room appear smaller and crowded. If you're not sure where to start, consider consulting a professional designer and/or an organizer to help remove any clutter as this will make your home look larger and cleaner. And if your home could use a thorough cleaning, bring in the professionals for a day to give it some sparkle and shine.
Become Energy Efficient
Savvy homeowners know that having energy-efficient fixtures and appliances throughout their home is the money-saving way to go. Consider replacing antiquated white appliances with appealing energy-conscious black or stainless steel models. Becoming energy-efficient can extend from ensuring your home is properly insulated and has Energy Star-certified windows to replacing incandescent bulbs with compact fluorescent lights (CFL) or for light-emitting diode (LED) lights. Think about installing ceiling fans that circulate the warm air and lessen the need for pricey air conditioning. Install a smart technology programmable thermostat where you can control the temperature from your computer or smartphone, which will appeal to both younger and eco-conscious buyers. Be sure to take advantage of any free energy audits your utility companies may be providing.
Regular Maintenance & Repairs 
Showing your home constant love and attention will shine through when it's time to sell. You can upload home improvement receipts for repairs and upgrades into DomiDocs so you'll have documented proof of the renovations. This helps to solidify the investments you've made in your beloved home throughout the years. But, in case you've missed something, it's always a good idea to do a fresh walk around your home looking for little items that could easily be fixed such as a squeaky door or a loose handle. If potential buyers notice these same maintenance issues as they're shopping, it will only make them wonder if there are also bigger hidden concerns. If you live in a power outage prone area, consider installing a whole-house generator as a value-added bonus for your home. Using the DomiDocs' regularly scheduled Maintenance feature which provides calendar reminders, will help keep your property up-to-date and can increase your TrueValueIndex (TVI) over time. 
More Intense Interior Overhauls
If your home has popcorn ceilings, you may want to replace them. But if it's an older home, that popcorn could contain asbestos so you'll need to have it professionally inspected before you do anything.
Besides replacing old rugs and carpets so your home is more visually appealing, you could also be helping to improve the air quality in your home as many of these can be hiding allergens or even contaminants within. Hard-surface floors are the choice for today's busy families as they're durable and easy to clean.
You'll recoup nearly 80% of your costs when doing a bathroom renovation but if you can't do a full-on remodel, replacing the flooring, vanity, and light fixtures offers a good bang for the buck. The same goes for the kitchen where you can tile the backsplash, change the countertops or cabinet hardware, or add a water filtration system. A central air conditioning unit is a must-have for any warm-weather state.
Are you able to expand your current home? If you can have a main floor master bedroom, a dedicated laundry room, additional storage, or a flex room such as a den/office workspace alongside an adaptable open-plan concept, you'll be maximizing your resale opportunities. Is there an attic you can revitalize or an unfinished basement you can spruce up? You may want to consider constructing a legal mother-in-law suite with a separate entrance and kitchenette.
Exterior Revisions That Will Revitalize
One of the first things prospective buyers will notice when they arrive at your home is the roof. If it's in less than ideal condition, they may not want to look further. The second thing they'll notice is the lawn and landscaping. Mature trees are great for the environment but if you haven't started gardening yet, consider planting native species that are drought-tolerant and low maintenance. If your landscaping is a little out of hand, hire a lawn company to bring back that desired curb appeal. 
Are you able to expand your current outdoor living space to include a BBQ or fire pit area, or bench seating with storage? The key here is to keep the outdoor space simple and low maintenance, just like the gardening duties.
DomiDocs offers you a comprehensive cloud-based platform so you can digitally manage your home both internally and externally with ease. We provide organization, education, and technology to save you time, money, and to ultimately increase your home's value.
50+ Things That Make Your Home Outdated
Author: Connie Motz