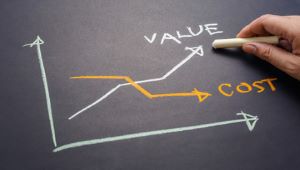 If you're thinking about borrowing money to buy a home or refinancing an existing mortgage, it helps to know what your loan-to-value ratio is before you approach potential lenders. What is an LTV and why is it important? Let's take a look!
Loan-to-Value Ratio Defined
Simply put, the loan-to-value ratio (LTV) is the difference between the current market value of a house and the loan amount. It's basically a comparison of the money you want to borrow against the property's assessed value. This calculated ratio is then used by prospective lenders as a risk assessment tool before approving your mortgage or refinancing. It also determines what amount may be required for a down payment as well as the interest rate you qualify for. The lower your LTV, the better position you'll be in to obtain a great mortgage, but you may also qualify for a loan at a higher interest rate if your LTV is less than ideal.
How to Calculate Your LTV
According to Rocket Mortgage, you can easily calculate your LTV by dividing the loan amount by the current appraised value of the home. Here's an example:
| | |
| --- | --- |
|   | Prospective Home |
| Appraised Property Value | $250,000 |
| Loan Amount | $200,000 |
| Calculation | $200,000/$250,000 = 0.8 |
| LTV | 80% |
Rocket Mortgage states, "An LTV of 80% or lower is ideal – not only does this mean you'll be eligible for preferable loan options with better rates, but you can avoid paying mortgage insurance, saving hundreds of dollars on your mortgage payments. If your LTV is higher than 80%, that can mean you'll have to pay for mortgage insurance. Mortgage insurance allows the lender to take greater risks to lend you the money by protecting the lender in case you default on the loan."
Ways to Improve Your LTV
It doesn't matter if you're buying your forever home or if you're just refinancing, there are a few ways you can boost your LTV ratio.
New Purchase:
Increase your down payment: while this may mean scraping together whatever cash you can from whatever sources, making a larger down payment on a property will lower your LTV ratio. The more money you can put down, the more serious you'll be seen as an invested buyer by prospective lenders. The bonus upside here is that by making a larger down payment, you'll also be increasing your home's

equity

.

Lower your expectations: meaning if you can't afford to put down a larger down payment to lower your LTV ratio, consider focusing on finding a less expensive home. You can easily calculate your LTV by using the above formula so you'll know where your LTV lies.
Refinancing:
Make on-time mortgage payments: you can build equity in your home and pay down the principal balance by making regular on-time mortgage payments. When you reach an LTV ratio of 80%, you'll no longer be required to pay for

private mortgage insurance

.

Increase your home's equity: it's easy to document your home improvements with DomiDocs where you can securely upload receipts and photos to track any renovations you've undertaken. You can even find a trusted contractor through our list of nationwide service providers.
What Makes an LTV Worse?
Unfortunately, there are also ways your LTV ratio may decrease through no fault of your own. These factors can include a drop in property value due to current housing market conditions, or if what you owe on your home is more than what your house is now worth, which is termed as being 'upside down' or 'underwater' with a lender.
Do You Know the Current Market Value of Your Home?
If you're already a homeowner, what's the current market value of your home? Our easy-to-use DomiDocs homeowner management platform provides an up-to-date TrueValueIndex® (TVI) so you'll know what your property is worth at any time you choose. Our TVI value is based on market comparables, including recent sales of similar homes in your neighborhood, as well as a combination of validated and unvalidated improvements you've made to your property.
How Your LTV Can Affect Different Types of Loan Options
As different types of mortgages have particular eligibility requirements, your LTV will help to determine what mortgage or refinancing you'll qualify for.
VA Loans: As provided to eligible veterans through the Department of Veterans Affairs, 

VA loans

offer refinancing and mortgages with an LTV of 100% meaning you may qualify to borrow with zero money down, nevertheless additional fees may apply.

Conventional Loans: not backed by any government agency, borrowers may be able to obtain a conventional loan with an LTV of 97% which then requires a 3% down payment as with offerings by Freddie Mac's Home Possible and Fannie Mae's HomeReady mortgage programs. However, conventional loans typically also need a

debt-to-income ratio

not exceeding 50% and a minimum

credit score

of 620.

FHA Loans: Provided by the Federal Housing Administration,

FHA loans

are generally offered to borrowers with an LTV ratio of 96.5% or lower, requiring a 3.5% down payment. To qualify for an FHA loan, you'll need a credit score of 580 or more.
Now that you know the ins and outs of an LTV ratio, you can learn more by reading: 
DomiDocs features functional home management tools designed to save you both money and time, as well as HomeLock™, our exclusive home title protection service that proactively monitors your home against equity fraud, unpaid bills, county-level clerical errors, and missed payments. Watch our HomeLock™ video and sign up today!
Author – Connie Motz